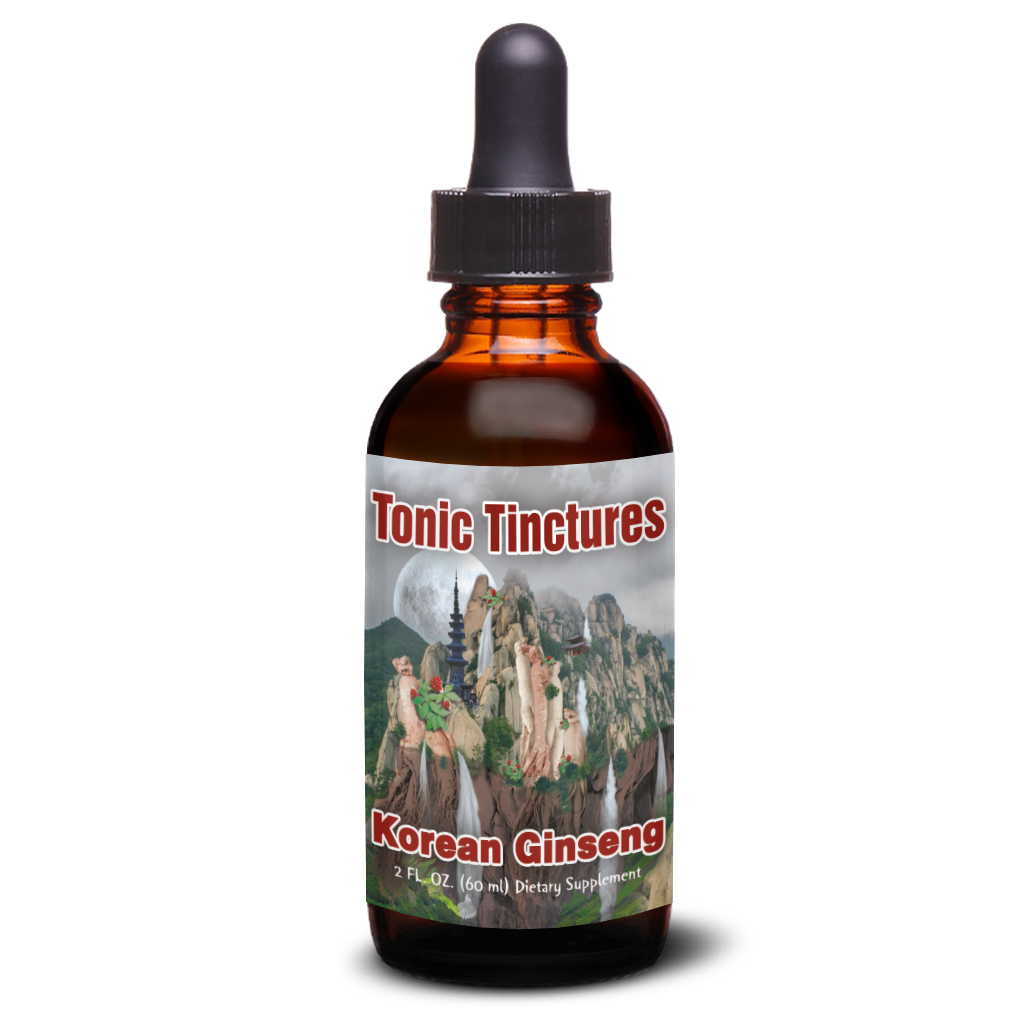 Korean Ginseng
Discounts Taken from Single Bottle Price

1 Pack + Free Shipping
2 Pack @ 10% Off + Free Shipping
3 Pack @ 15% Off + Free Shipping
6 Pack @ 20% Off + Free Shipping
12 Pack @ 25% Off + Free Shipping
&nbsp
---
Korean Ginseng Poster
†
---
Korean Ginseng Has These Key Benefits:
Enhance energy for daily performance activities*
Support daily stress-resistance and work tolerance*
Promote cardiovascular performance*
Promote cognition, memory and sociability*
Boosts mood and overall well-being*
Build immune function*
Promote endocrine function and healthy hormones
---
---
Benefits and Uses*
---
Lifestyles*
---
Description*
Pictured above in the Korean Ginseng Poster are 15 whole panax ginseng roots in a catty that were grown, harvested, processed, packaged and sealed in South Korea. Korean ginseng is high energy in a bottle and is considered by many connoisseurs to be the most potent and best ginseng in the world. We source the best Korean roots to make this sweet and succulent extraction of the finest quality.*
---
Authentic Korean ginseng is of the Asian variety known as panax. Korean panax ginseng goes through many years of growing and a variety of production steps that includes steaming for maximum potency.
---
Ginseng Cultivation
Korea has made ginseng growing a science that has been studied for over one-thousand years and has advanced their knowledge and understanding of cultivation for the past one thousand years to produce a consistent and government industry regulated crop.
---
For example, ginseng roots have to be in the ground for at least six years before harvesting, for a maximum and balanced ginsenosides content. Cultivation begins with suitable soil composition that is rich in humus and bioavailable nutrition. Additionally, the farm site must be chosen so that it faces north, so that the ginseng plants are shaded from direct southerly rays. This indirect light simulates their natural habitat of growing beneath the canopy of the forest.
---
Ginseng Life-Cycle
The life cycle of cultivated ginseng has been studied extensively. At the end of autumn, the seeds are sown where they will grow for two years before being transplanted into the main field. By year three, the ginseng plants will begin to flower and the root then begins to develop its size, but it is another three years before ginseng is considered to have reached viable potency. At year six, and possibly ten, the root has become largest in size and is high in ginsenosides, which are the main constituent for potency.
---
Harvesting and Steaming
After harvesting during the sixth to tenth year, it is processed in state-of-the-art facilities where it is cleaned and sorted. The rootlets are trimmed and the main root is left unpeeled before being steamed in a proprietary mix of jujube dates and other herbs. Some additional ginsenosides, not found in the fresh root, are created by this steaming process, further enhancing potency.
---
Packaging and Sealing
After steaming, they are then dried and compressed into a 600 gram catty that is wrapped in traditional wrapping paper called Hanji. They are then placed in a decorative wooden box which is sealed in foil and then further packed in a vacuum sealed tin canister for safe keeping and preservation. The best roots for ginsenoside composition are the largest and fattest, so that only 10-15 roots can fit into a 600 gram catty.
---
Heaven Grading
The best quality roots are designated are the selected grade of Heaven. They go through an inspection process that chooses the deepest reddish-brown roots with no cracking along its thick full body. Lastly the roots are passed in front of intense light to verify internal integrity.
---
Main Benefits
Many of the benefits of ginseng are attributed to the concentrated ginsenosides' effects on the circulation and the relaxation of vascular and muscle tissue.* This is further confirmed with ginseng's high ratio of the amino acid, Arginine, which is important in the nitric oxide cycle that effects blood flow, cardiovascular health and cognition. With better blood flow to and from the muscles, one will have less lactic acid build-up, and overall greater stamina and reduced discomfort of muscles and joints.*
---
Korean ginseng is known in Asia as a very warming 'yang' tonic that lifts our moods and posture, a desire to be both physically and mentally active, with a sharp sense of humor.* Korean red ginseng imbues a warm contentment and is undoubtedly very empowering!*
---
The high amount of ginsenosides in Korean ginseng promote activity on the mental, physical, and emotional levels of our being.* They promote cognitive function, including short term memory, as well as supporting physical strength and coordination, like timely reflexes, And lastly, but not least, overall hormonal health in men and women.*
---
Batch Specs
Larger Panax Ginseng Roots Contain More Ginsenoside Saponins
†
We formulate using a variety of extraction steps and techniques for multi-step potency which include:
Artisan-formulated for Wholistic Effects and Benefits
Korean Red Ginseng that is Garden Cultivated and Harvested at 6-10 Years for Full Botanical Potency
Traditionally Formulated with Red Jujube to Enhance Tonic Potency
All Active Parts of the Root Extracted and Preserved

Cold Processed Where Appropriate to Preserve Integrity of Fragile Constituents
Steam Processed for Ginsenoside and Polysaccharide Activation and Easy Absorption

Dual Solvent: Water and Alcohol for 99.9% constituent content

Semi-soluble Activated Polysaccharides Included in Suspension

Stabilized for Natural Preservation - No Preservatives
This formulation uses low alcohol, 30% by volume, so that it may be taken every day, preferably during the morning meal and periods of activity.
See our homepage for more about our methods.
---
Ingredients
Korean Ginseng (Heaven 10 to Heaven 20 Grade), Red Jujube Dates
Structured Distilled Water
Triple Filtered USP Grade Organic Alcohol (30% by volume)
---
Dosage*
Recommended Dosage: 250 - 2,250 milligrams @ 1-3 times a day*
Korean Ginseng Dosage Equation:
The dosage of most tonics work by bodyweight and activity level and dietary factors. The amount of Korean ginseng taken is highly dependent on activity level and diet factors.
BW + AL + DF
Bodyweight (BW) is the overall weight measured by a bathroom or locker room scale.
Activity level (AL) is a relative unit based on the amount of work accomplished, stress-levels and fitness-intensity.
Diet factors (DF) are based on how much calories and food is taken in, such as protein, fat and carbohydrates.
Estimated Daily Dosage:
BW = 1 dropper per ~150 pounds bodyweight

AL = + 1-3 droppers - 1 low/medium, 2 medium/high

DF = + 1 dropper for every 1250 kcal reached
Example: 185lb person (BW = 1 dropper) who is working a manual labor type of job with a high stress day (AL = 2 droppers) and eats ~2850 kcals (DF = 2 dropper) would have a functional dosage of 5 droppers daily divided into 1-3 doses across the day.
Example is BW 1 + AL 2 + DF 2 = 5 droppers
To find a functional dose, start with a minimum dose of 10 drops to 1 dropper and work up to a functional dose.* Many benefits of tonics come from consistent and continued use over a period of time.*
Korean ginseng dropper:
60 1ml droppers in a 2oz (60ml) bottle
1ml dropper = ~750 mgs Korean ginseng extract
Korean ginseng drops:
30 drops in a 1ml dropper
1 drop = ~25 mgs Korean ginseng extract
Suggested Korean Ginseng Cycle:*
Initial Phase = 3-45 days
Health Cultivation = ∞
Optional Cycle-off Period = 15-45 days
Continuous consumption of Korean ginseng will yield increasing benefits and results over the time consumed; in other words, consistent daily consumption of Korean ginseng at a functional dosage over the period of suggested time will increase health and wellness benefits.*
After an initial cycle Korean ginseng may be continued on-and-off for the cultivation of health or traded-out for another tonic adaptogen superfood.*
Suggested Timing:
---
How to Take
Korean ginseng works best when taken with complete meals towards the beginning of the day, such as breakfast and/or before work and performance activity.*
The addition of probiotics in the daily diet will further activate the constituents, such as ginsenosides and polysacchrides, in the extraction for easy assimilation.*
Benefits with tonics take time; taking enough consistently rewards health
†
Take as desired: consume on a continuous basis to develop the natural tonic and adaptogenic benefits that build over time.* Some benefits are immediate and some results require consumption over several days and weeks to accomplish.* A good tonic cycle is 45-90 days of a tonic adaptogen which will generate lasting health changes.*
Shake gently: secure the lid and turn the bottle over back-and-forth 3-5 times to evenly distribute the tincture. Do not over-shake as the vigorous mixing of air with the extract will oxidize and damage many of the necessary constituents for required dosage and potency.
By mouth: hold the liquid under the tongue for 60-90 seconds and then swallow the rest of extract; doing so allows digestion to begin in the mouth and will take advantage of the activated multi-step extract so that many of the constituents will bypass digestion and enter the body through the mouth and throat.* Holding the extract also promotes better absorption and assimilation and elicits an immediate effect that is performance oriented*
Mix with water: squirt the drops or entire droppers into 2-4 oz. of water that is under 120*F. Water that is cool to lukewarm temperature is best to preserve the volatile and fragile constituents from being damaged and denatured which will reduce the potency of the extract.* Sip slowly to allow absorption in the mouth and throat.* This method makes it easier to become accustomed to the extract and to take larger doses of several different tinctures at once in a tonic program.*
For maximum potency: regularly consume the tincture within a period of 45 days; after 45 days of continuous consumption the extract may begin to gradually lose potency requiring a larger dosage to achieve similar benefit.* A bottle will generally last 10-30 days depending on dosage and concurrent supplementation programming.*
Further dosage reference: How to Take a Tonic Tincture
---
Tincture Details
Tincture Type:
• Multi-step Hydroalcohol
Serving Size:
• 1 dropper
Daily Usage:
• 1-9 droppers per day
Extraction Ratio:
• 45,000mgs per 2oz. bottle
Manufacture Date:
• February 6th 2023
Expiration:
• 2 Years from manufacture
Expiration & Storage Information
Made In Oregon USA
---
Label
Korean Ginseng Tincture is 750mgs extract per 1ml dropper
---
Questions and Answers
Common questions about Korean Ginseng supplementation.
Please submit any question via our contact form.
Please review Panax Ginseng for more common questions about ginseng.
Q: What does Heaven 10-20 mean for Korean ginseng?
A: Heaven refers to the quality of the Korean grown ginseng root. Heaven roots are tested to be the largest, most uniform in shape and healthier in structure. The 10-20 means how many roots fit into a traditional Chinese catty - a unit of food measure. A Heaven 10-20 root may be anywhere from 30-60 grams in weight and up to the size of a carrot in length. Larger grown roots of the heaven grade have the highest ginsenoside content.
Q: I recently bought the Korean Ginseng on your website and was wondering if there are any other tonics that will complement well with this tonic, or should I just stick to this one by itself?
A: If you are new to a tonic, sometimes it is best to try one out for a while, before picking up a new one, to get an idea of how it works for you and how to best get a tonic to work for you.
Otherwise, there are many tonics that you can take with Korean Ginseng. Korean Ginseng is foremost an energy tonic, so generally when putting together a tonic supplement program you may want to avoid doing more energy tonics, unless, of course, that is what you want to focus on. One way to do this is to select one product from another collection: Tonic Tinctures Collections
Q: How much ginsenosides are in your Korean Ginseng?
A: We don't produce dilution standardized extracts for the amount of ginsenosides nor do we test each batch of 16 bottles for ginsenoside content. We produce multi-step extract tinctures for all the constituents of Korean ginseng. We use large Heaven Grade 10 to 20 ginseng roots for our Korean Ginseng tincture because they have a higher ginsenoside content and greater overall potency concerning all the benefits and uses of panax ginseng.
Q: I bought the Korean Ginseng Heaven Grade and haven't felt any effects, except I notice I get a little tired!
A: Oftentimes when someone gets tired feeling while taking tonics they are better taking a tonic with meals.
Korean Ginseng from larger grades have more ginsenosides which will increase the hormonal and endocrine support of ginseng which can put us into a deep adrenal recovery when we take it because of the greater tonic benefits. If you are looking for energy and stimulation from ginseng, the smaller grade roots tend to support energy circulation more while supporting endocrine and hormonal systems less: such as with our Panax Ginseng. Even our Heaven Ginseng has smaller roots than the Korean large grades and will be balanced more towards energy circulation and less towards adrenal endocrine and hormonal benefits.