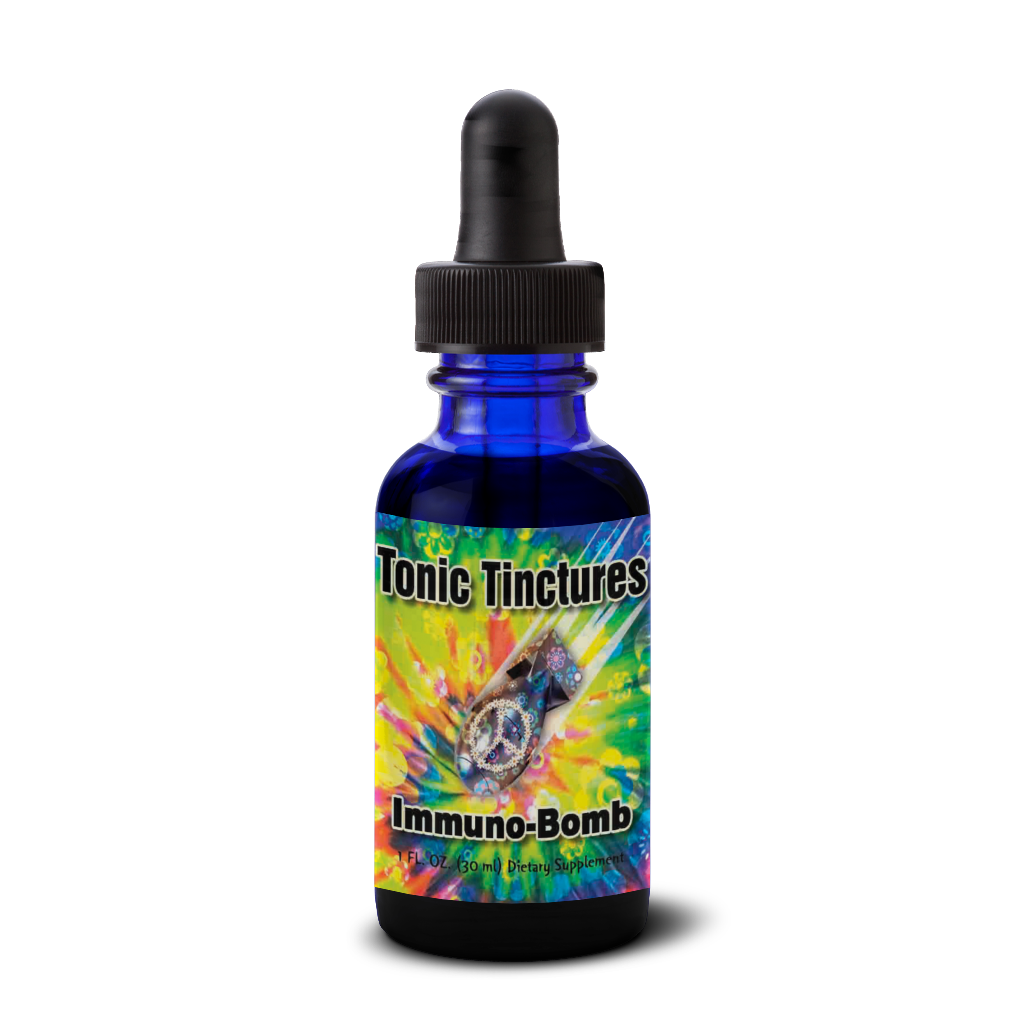 Immuno Bomb Echinacea and Goldenseal
Discounts Taken from Single Bottle Price

1 Pack + Free Shipping
2 Pack @ 10% Off + Free Shipping
3 Pack @ 15% Off + Free Shipping
6 Pack @ 20% Off + Free Shipping
12 Pack @ 25% Off + Free Shipping
&nbsp
---
Immuno Bomb Poster
†
---
Immuno-Bomb Has These Key Benefits:
Relief from seasonal allergies*
Support respiratory function; nose and lung health*
Promote active immune function*
Support liver function and detoxification*
Promote blood cleansing*

Assists removal of fatigue and stress by-products*
Neutralize environmental toxins*

Support digestion and gut health*
---
---
Benefits and Uses*
---
Lifestyles*
---
Description
Immuno-Bomb supports and promotes the functioning of the nasal passages, lung, liver and stomach by combining several western-style herbs into one tonic for more effectiveness.
---
Immuno-Bomb contains a rare wild-harvested Native American botanical from the rocky mountains of Colorado, called Osha root, that is thought to eradicate spirits and negative energies by it's pungent smell. The smell comes from essential oils which are preserved in the tincture by hydroalcohol extraction of this root. Upon opening the bottle, negative spirits will vacate the premises, while internal consumption will yield the health supporting benefits.
See the next section 'Batch Specs' for a detailed breakdown of how the main botanicals in Immuno-Bomb work.
---
Batch Specs
Immuno-Bomb goes through a multi-step extraction process that produces a very potent and concentrated extraction. Both alcohol and water steps are used in the process of extraction, along with cold steps and heated steps where necessary. A high amount of alcohol, 40% by volume, is used as part of the liquid extract to increase the immediacy of the overall effects for short-term use.
Immuno-bomb Contains Potent Immune Supporting Herbal Remedies
†
The Three Main Medicinal Herbs of Immuno-Bomb:
Echinacea Root

Supports the

thymus gland

to promote

immune function

Contains

antioxidants

for

detoxification

and

immune support

Promotes healthy immune cell production in the

bone marrow

Goldenseal Root

Promotes

liver health

Assists

detoxification

Boosts

digestion

Supports healthy

bowel movements

Osha Root

Supports the

nasal passages, lungs and stomach

Promotes

liver health

Support

blood circulation
---
Immuno-Bomb also contains the tonics Eletheruo, to support energy, Solomon's Seal, to support lubrication of fluids, and Elcampane to promote digestion and detoxification and strengthen the lungs and nose.
See our homepage for more about our methods.
---
Ingredients
5

0%

Main Medicinal Herbs

Echinacea Root (Angustifolia + Purpurea) - Organic
Goldenseal Root - Organic
Osha Root - Sustainably Wild Harvested

35%

Assistant and Supporting Tonics

10%

Directing Herbs

5%

Supporting Herbs

Turmeric Root - Organic
Ginger Root - Organic

Structured Distilled Water
Triple Filtered USP Grade Organic Alcohol (40% by volume)
---
Dosage*
Recommended Dosage: 1-3 droppers 1-3 times a day.
Start with one dropper at a time by adding it to a small amount of room-temperature water or take it straight by mouth. Increase dose if necessary or as desired.
Adjust your dosage based on the length of the cycle:
Larger doses for short term use of

3-14 days

Smaller doses for longer-term use of

15+ days
Immuno Bomb Dosage Instructions
†
(Click to Enlarge)
---
How to Take
Take anytime. You may find better results by taking it with a complete meals.
Divide doses every 2-4 hours in a short-term cycle for detoxification and to support immune function.
Take in the morning and/or evening in a long-term cycle to build-up and maintain immune, lung, and liver health.
Benefits with tonics take time; taking enough consistently rewards health
†
Take as desired: consume on a continuous basis to develop the natural tonic and adaptogenic benefits that build over time.* Some benefits are immediate and some results require consumption over several days and weeks to accomplish.* A good tonic cycle is 7-15 days with Immuno Bomb.*
Shake gently: secure the lid and turn the bottle over back-and-forth 3-5 times to evenly distribute the tincture. Do not over-shake as the vigorous mixing of air with the extract will oxidize and damage many of the necessary constituents for required dosage and potency.
By mouth: hold the liquid under the tongue for 60-90 seconds and then swallow the rest of extract; doing so allows digestion to begin in the mouth and will take advantage of the activated multi-step extract so that many of the constituents will bypass digestion and enter the body through the mouth and throat.* Holding the extract in the mouth also promotes better absorption and assimilation and elicits an immediate effect that is performance oriented*
Mix with water: squirt the drops or entire droppers into 2-4 oz. of water that is under 120*F. Water that is cool to lukewarm temperature is best to preserve the volatile and fragile constituents from being damaged and denatured which will reduce the potency of the extract.* Sip slowly to allow absorption in the mouth and throat.* This method makes it easier to become accustomed to the extract and to take larger doses of several different tinctures at once in a tonic program.*
For maximum potency: regularly consume the tincture within a period of 45 days; after 45 days of continuous consumption the extract may begin to gradually lose potency requiring a larger dosage to achieve similar benefit.* A bottle will generally last 10-30 days depending on dosage and concurrent supplementation programming.*
Further dosage reference: How to Take a Tonic Tincture
---
Tincture Details
Tincture Type:
• Multi-step Hydroalcohol
Serving Size:
• 1 dropper
Daily Usage:
• 1-3 droppers 1-3 times per day
Extraction Ratio:
• 1 pound:1 quart - 15,000mgs to 1oz.(30ml)
Manufacture Date:
• June 10th 2023
Expiration:
• 2 Years from manufacture
Expiration & Storage Information
Made In Oregon USA
---
Label
Immuno Bomb Tincture is 500mgs extract per 1ml dropper.
---
Questions and Answers
Common questions about Immuno Bomb supplementation.
Please submit any question via our contact form.
We currently do not have any questions, please ask one.
Q:
A: