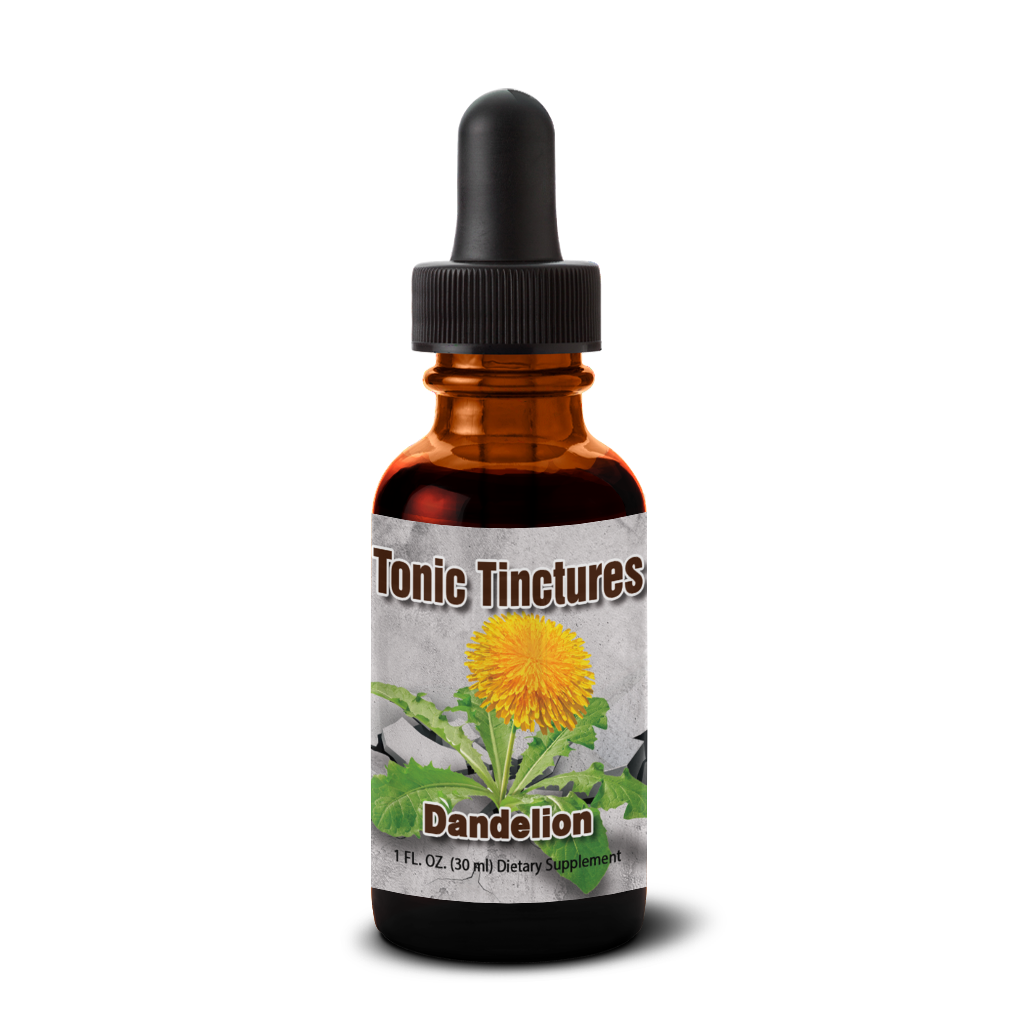 Dandelion Root
Discounts Taken from Single Bottle Price

1 Pack + Free Shipping
2 Pack @ 10% Off + Free Shipping
3 Pack @ 15% Off + Free Shipping
6 Pack @ 20% Off + Free Shipping
12 Pack @ 25% Off + Free Shipping
&nbsp
---
Dandelion Root Poster
†
---
Dandelion Root Has These Key Benefits:
Nutritive

 

mineralizing herb*
Promotes

 

liver function and detoxification*


Assists removal of fatigue and stress by-products*
Assists removal of environmental toxins*

Maintains kidney and urinary bladder function*
Promotes digestion and assimilation of nutrient dense foods*
Maintains blood sugar in the normal range*
Supports skin health and skin cleanliness*
Maintains female mammary gland health*
---
| | |
| --- | --- |
| | |
---
Benefits and Uses*
---
Lifestyles*
---
Description*
Dandelion Root is one of the best and easiest to take blood cleansing and liver detoxifying herbs; gently cleansing to the liver, all tissues, such as the skin, and including the endocrine and exocrine glands in the body, especially the mammary glands in females.*
---
Dandelion Roots are a Liver Tonic.*
The main ways dandelion root works is by the bitter and sweet flavors.* The bitter flavor comes from lactucopricrin and other similar principles which are calming in nature and promote the cleansing of blood, tissues, organs and glands; the sweet flavor comes from the inulin, containing up to 25% by weight, which stimulates digestion and supports blood sugar in the normal range.*
---
Dandelion Root is a Heat Clearing Herb.*
The detoxification and blood cleansing benefits of dandelion root assist the blood and liver in the removal of irritating and fluid stagnating by-products of metabolism and fatigue, such as lactic acid from the muscles and other tissues in the body, therefore being a good tonic to take after daily activites and work to promote recovery and rest.*
---
Dandelion Roots Support Digestion and Elimination.*
Dandelion root can help support the digestion of protein and fat foods by promoting the body to release digestive juices such as bile from the gallbladder.* Dandelion root promotes the movement of digested food through the digestive track and gently promotes healthy bowel movements.* Additionally, dandelion root promotes kidney and bladder health by maintaining hydration and promoting urination due to the high mineral content.
---
Dandelion Roots Promotes Female Mammary Gland Health.*
Within classical Chinese herbalism, dandelion has been widely used for female mammary gland health by supporting cleansing of tissues and assisting the removal of toxins. Dandelion root may be used as part of dietary and supplement program to promote mother's milk, because of the nutritive and digestive benefits for assimilating healthy and nourishing food.*
---
Dandelion Roots are a Nutritive Mineralizer Tonic.*
Dandelion roots contain a wide range of necessary and essential minerals that help to support a complete and nutrient dense diet.* From most common minerals to least common minerals found in dandelion root:
Potassium
Calcium
Phosphorus
Magnesium
Sodium
Iron
Zinc
Manganese
Chromium
Copper
Other trace minerals.

---
Batch Specs
Dandelion Root Is A Classic Relaxing Liver Tonic
†
Tonic Tinctures formulates using the classic single step extraction method for a traditional and potent tincture:
Artisan-formulated for Wholistic Effects and Benefits
Organically Grown Dandelion Root
All Active Parts of the Root Extracted and Preserved
Dual Solvent: Water and Alcohol for 99.9% constituent content
Stabilized for Natural Preservation - No Preservatives
Low alcohol, 25% by volume, so that the extract may easily taken.
See our homepage for more about our methods.
---
Ingredients
Dandelion Root (Taraxacum officinale) Organic, Eastern Europe
Structured Distilled Water
Triple Filtered USP Grade Organic Alcohol (25% by volume)
---
Dosage*
Recommended Dosage: 10-90 drops @ 1-3 times a day*
Dandelion Root Dosage:
To find a functional dose, start with a minimum dose of 10 drops and work up to a functional dose.* Many people will find 1-2 droppers (30-60 drops) of Dandelion Root tincture, taken twice a day, to suffice for the benefits.*
Dandelion Root dropper:
30 1ml droppers in a 1oz (30ml) bottle
Dandelion Root drops:
30 drops in a 1ml dropper
Suggested Dandelion Root Cycle:*
Blood Cleansing/Detoxification = 7-21 days
Health Cultivation = 30-90 days
Continuous consumption of Dandelion Root is safe, but do not overconsume at one time as this may cause loose bowels.
A short cycle may be used to reduce the build-up of by-products of fatigue and toxins in the blood, liver, and tissue. Benefits should start to appear in the range of 1-3 weeks.
Dandelion may be consumed as a tonic over longer periods of time to build-up health of tissues and glands, as well as a consistently used digestive, liver, and mineralizer tonic.
Suggested Timing:
---
How to Take
Dandelion Root is best taken with complete meals or a snack to support and maintain stable blood sugar levels in the normal range.*
Take before a meal to promote detox, liver health, and digestion of food.*
Use anytime to promote blood cleansing and support liver and kidney health.*
Benefits with tonics take time; taking enough consistently rewards health
†
Take as desired: Consume on a continuous basis to develop the natural tonic benefits that build over time.* Some benefits are immediate and some results require consumption over several days and weeks to accomplish.*
Shake gently: Secure the lid and turn the bottle over back-and-forth 3-5 times to evenly distribute the tincture. Do not over-shake, as the vigorous mixing of air with the extract will oxidize and damage many of the necessary constituents for required dosage and potency.
By mouth: Hold the liquid under the tongue for 60-90 seconds and then swallow the rest of extract. Doing so allows digestion to begin in the mouth and will take advantage of the activated single-step extract, so that many of the constituents will bypass digestion and enter the body through the mouth and throat.* Holding the extract in the mouth also promotes better absorption and assimilation, eliciting an immediate effect that is performance oriented*
Mix with water: Squirt the drops or entire droppers into 2-4 oz of water that is under 120*F. Cool to lukewarm water is best to preserve the volatile and fragile constituents from being damaged and denatured which will reduce the potency of the extract.* Sip slowly to allow absorption in the mouth and throat.* This method makes it easier to become accustomed to the extract and to take larger doses of several different tinctures at once in a tonic program.*
Further dosage reference: How to Take a Tonic Tincture
---
Tincture Details
Tincture Type:
• Classic Single-step Hydroalcohol
Serving Size:
• 10-30 drops or 1 dropper
Daily Usage:
• 10-90 drops 1-3 times per day
Extraction Ratio:
• 1:4
• 1 part herb : 4 parts menstruum
Manufacture Date:
• August 4th 2023
Expiration:
• 2 Years from manufacture
Expiration & Storage Information
Made In Oregon USA
---
Label
Dandelion Root Tincture Extraction Ratio is 1:4.
---
Questions and Answers
Common questions about Dandelion Root supplementation.
Please submit any question via our contact form.
Q:
A: