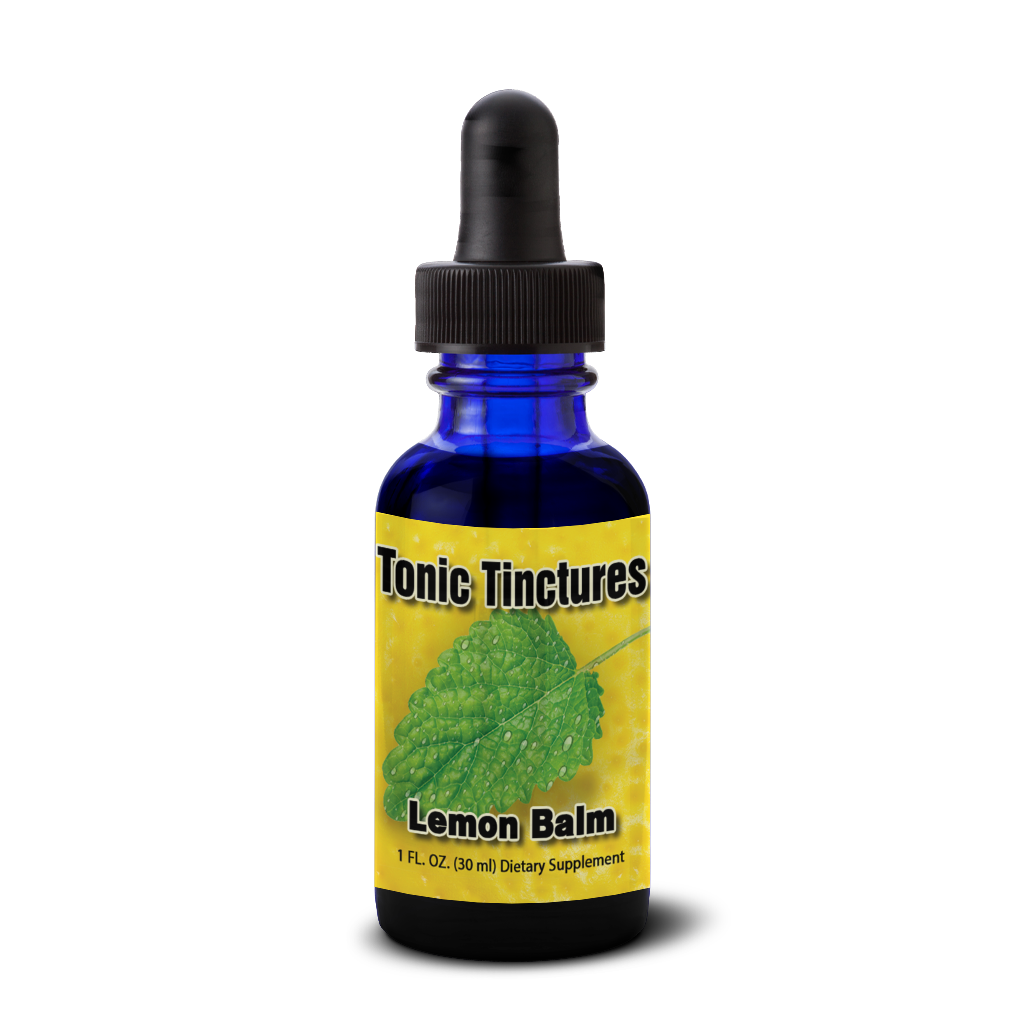 Lemon Balm
Discounts Taken from Single Bottle Price

1 Pack + Free Shipping
2 Pack @ 10% Off + Free Shipping
3 Pack @ 15% Off + Free Shipping
6 Pack @ 20% Off + Free Shipping
12 Pack @ 25% Off + Free Shipping
&nbsp
---
Lemon Balm Poster
†
---
Lemon Balm Has These Key Benefits:
Promotes recovery from stress*
Supports overall wellbeing*
Promotes relaxation of tissues*
Promotes

 

digestive health*
Supports

 

breathing health*
Relief

 

from seasonal allergies*
Sweetened

 

with stevia leaf for a tasty aromatic tincture
---
| | |
| --- | --- |
| | |
---
Benefits and Uses*
---
Lifestyles*
---
Description*
Lemon balm is a unique type of medicinal herb that is gentle and has a pleasant lemony flavor that can be taken by anyone, including children and elderly.* In herbalism, lemon balm is commonly called melissa or melissa balm after it's botanical scientific name Melissa officinalis. Lemon balm is one of the first herbs an aspiring herbalist will study concerning the easy-to-recognize uses, actions, properties, and benefits that can be incorporated into anyone's life.* 
---
Lemon Balm Calms, Relaxes, and Supports Sleep.*
The aromatic flavor of lemon balm is from the volatile oils that are contained within the leaf that have the recognizable lemon taste.* These oils, in combination with polyphenol and terpene constituents, promote relaxing of bodily tissues, including the stomach and digestive track.* All of this makes lemon balm a great medicinal herb to promote sleep when going to bed.*
---
Lemon Balm Restores the Nerves and Adrenals.*
Adding lemon balm to the diet supports de-stress, recovery, and meditative activities to assist the restoration of the nerves and adrenals.* Taking lemon balm is an easy way to support the release of stress, soothe the nerves, and lift the spirits from a weary day; it can be part of a hearty complete meal to help support rest, even when exhausted and tired.*
---
Lemon Balm Supports Digestion and Breathing.*
Lemon balm is a common digestive medicinal herb that can be used to gently settle bodily energies from the after-effects of physical, emotional, and mental stress so that it may be used as part of a complete healthy balanced meal for recovery and regaining strength.* These same benefits will support breathing and settling-down for relaxation.*
---
Batch Specs
Lemon Balm Is The Easiest Medicinal Herb To Learn To Take
†
Tonic Tinctures formulates using the classic single step extraction method for a traditional and potent tincture:
Artisan-formulated for Wholistic Effects and Benefits
Organically Grown Dried Lemon Balm Leaves
All Active Parts of the Leaves Extracted and Preserved
Sweetened with Stevia Leaf Extract for a Tasty Tincture
Dual Solvent: Water and Alcohol for 99.9% constituent content
Stabilized for Natural Preservation - No Preservatives
Low alcohol, 25% by volume, so that the extract may be easily taken.
See our homepage for more about our methods.
---
Ingredients
Lemon Balm Leaf (Melissa officinalis) Organic, United States
Stevia Leaf Extract (Stevia rebaudiana) Organic, China
Structured Distilled Water
Triple Filtered USP Grade Organic Alcohol (25% by volume)
---
Dosage*
Recommended Dosage: 30-90 drops @ 1-3 times a day*
Lemon Balm Dosage:
To find a functional dose, start with a minimum dose of 10 drops and work up to a functional dose.* Many people will find 1/2 to 1 1/2 droppers (15-45 drops) of Lemon Balm tincture to suffice for the benefits.
Lemon Balm dropper:
30 1ml droppers in a 1oz (30ml) bottle
Lemon Balm drops:
30 drops in a 1ml dropper
Suggested Lemon Balm Cycle:*
Lemon Balm is safe and easy to take anytime to promote the desired benefits.  Overconsumption is not recommended as taking more than necessary will counteract the benefits - find a functional dosage that can be added to a diet and supplement program.
Suggested Timing:
---
How to Take
Lemon Balm may be taken anytime, but best effects and results will be during times of relaxation, rest, recovery, and bedtime.* Be sure to eat enough food during the day and a healthy snack may be beneficial.*
Benefits with tonics take time; taking enough consistently rewards health
†
Take as desired: Consume on a continuous basis to develop the natural tonic benefits that build over time.* Some benefits are immediate and some results require consumption over several days and weeks to accomplish.*
Shake gently: Secure the lid and turn the bottle over back-and-forth 3-5 times to evenly distribute the tincture. Do not over-shake, as the vigorous mixing of air with the extract will oxidize and damage many of the necessary constituents for required dosage and potency.
By mouth: Hold the liquid under the tongue for 60-90 seconds and then swallow the rest of extract. Doing so allows digestion to begin in the mouth and will take advantage of the activated single-step extract, so that many of the constituents will bypass digestion and enter the body through the mouth and throat.* Holding the extract in the mouth also promotes better absorption and assimilation, eliciting an immediate effect that is performance oriented*
Mix with water: Squirt the drops or entire droppers into 2-4 oz of water that is under 120*F. Cool to lukewarm water is best to preserve the volatile and fragile constituents from being damaged and denatured which will reduce the potency of the extract.* Sip slowly to allow absorption in the mouth and throat.* This method makes it easier to become accustomed to the extract and to take larger doses of several different tinctures at once in a tonic program.*
Further dosage reference: How to Take a Tonic Tincture
---
Tincture Details
Tincture Type:
• Classic Single-step Hydroalcohol
Serving Size:
• 10-30 drops or 1 dropper
Daily Usage:
• 30-90 drops 1-3 times per day
Extraction Ratio:
• 1:6.5
• 1 part herb : 6.5 parts menstruum
Manufacture Date:
• April 15th 2023
Expiration:
• 2 Years from manufacture
Expiration & Storage Information
Made In Oregon USA
---
Label
Lemon Balm Tincture Extraction Ratio is 1:6.5.
---
Questions and Answers
Common questions about Lemon Balm supplementation.
Please submit any question via our contact form.
Q:
A: