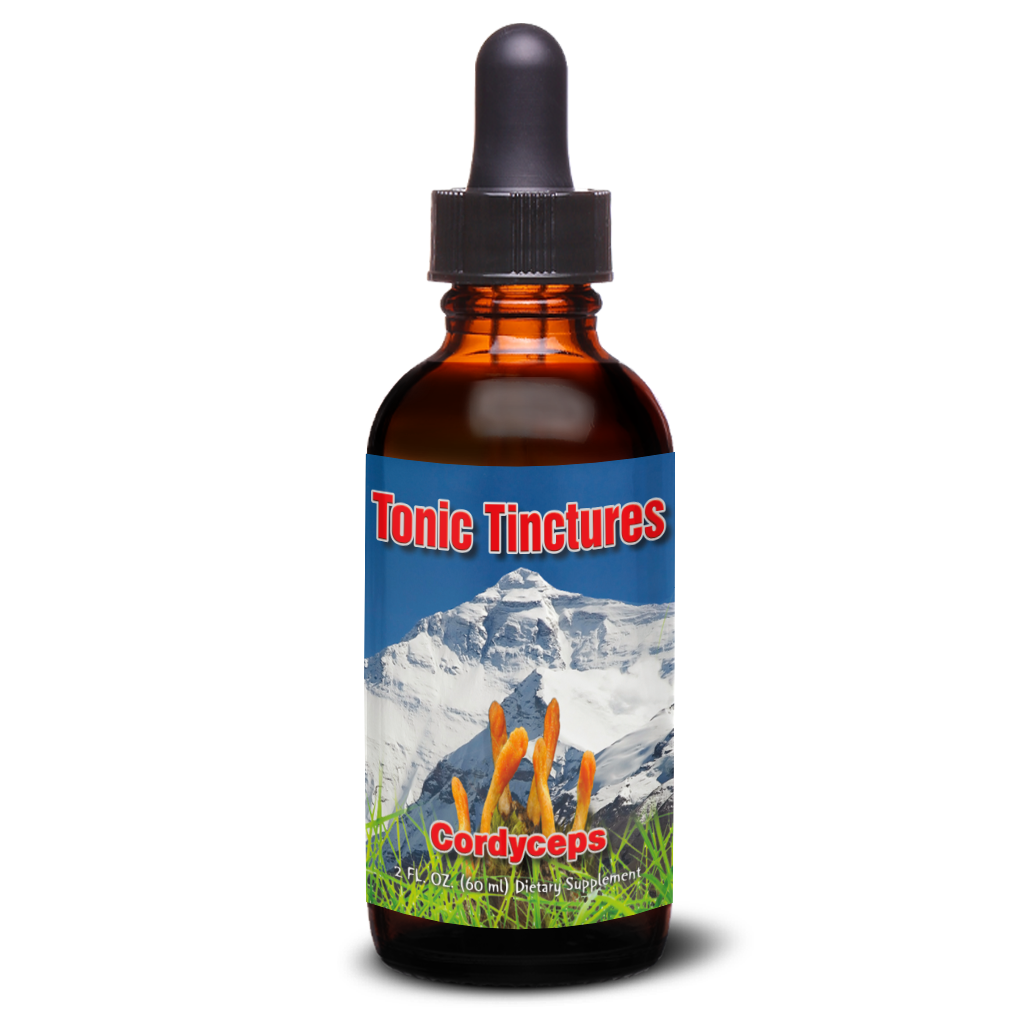 Cordyceps
Discounts Taken from Single Bottle Price

1 Pack + Free Shipping
2 Pack @ 10% Off + Free Shipping
3 Pack @ 15% Off + Free Shipping
6 Pack @ 20% Off + Free Shipping
12 Pack @ 25% Off + Free Shipping
&nbsp
---
Cordyceps Poster
†
---
Cordyceps Mushroom Has These Key Benefits:
Promote lung capacity and breathing strength*
Support long-lasting stamina and endurance*
Maintain stable energy levels*
Support adrenal hormones*
Support daily stress-resistance*
Build immune function*
---
| | |
| --- | --- |
| | |
---
Benefits and Uses*
---
Lifestyles*
---
Description
Cordyceps fungus transforms it's caterpillar host into a mushroom on the native high slopes of the Himalayas. This high-power of Cordyceps fungus imbues those who take it with physical endurance via greater oxygenation gained through stronger breathing and increased stress-tolerance from adrenal fortification.*
---
Cordyceps is a Unique High-Altitude Fungus that Naturally Grows Wild Within Caterpillars.
It has its origins in the thin-air on the grassy steppes of the Tibetan plateau of the Himalayan mountain range.
Known by many names, such as "yartsa gunbu" in Tibetan and "jeeban buti" in Nepalese it is the descriptive Chinese name of "dong chong xia cao" which translates into English as "summer-grass, winter-worm". Chinese scientists captured the spore for lab-cultivation and studied, after the trail and error of many different varieties, the most efficacious strain of cordyceps sinensis known by the designation CS-4.
---
Cordyceps is a Breathing Tonic Above All Others.*
It has been commonly used for respiratory performance by fitness enthusiast for decades and has garnered the dedicated use of amateur, professional and world-class Olympic athletes.*
Anyone can enjoy the stamina supporting benefits of Cordyceps, such as:
Adaptogenic Stress Resistance*
Deeper Breathing Capacity*
Increased Oxygenation Assimilation*
Cellular Mitochondria Energy Activation*
---
The Benefits of Cordyceps Directly Support Physical Activities:
Physical Exercise*
Fitness*
Sports*
Outdoor Adventure*
---
Cordyceps supports physical performance!*
Cordyceps contains unique mycological constituents, such as lipids and fatty acids, aromatic compounds like terpenes, and starchy molecule called polysaccharides.*
For fitness enthusiasts, the various constituents have excellent aerobic and performance benefits by their promotion of oxygen absorption in the lungs.* It is interesting how this high altitude fungus will imbue those who take it with high altitude adaptability.*
Oxygen is life for the human body and protects it from toxins that will not flourish or establish themselves in oxygen rich tissues.* And more oxygen to the brain and nervous system means better physical and cognitive performance.*
---
Cordyceps, from its various acids, increases cellular energy that improves physical stamina and endurance, as well as faster rates of energy recovery after aerobic and anaerobic exercise.*
---
It also has important antioxidant capacities that assist our bodies in reducing the byproducts of fatigue and promoting quicker recovery and regeneration of tissues.*
---
Like many other medicinal mushrooms, Cordyceps strengthens immune function via its polysaccharides.*
---
Batch Specs
We use outdoor lab-grown log-cultivated medicinal mushrooms, so that this supplement is tonic.* This means it is safer and easier-to-take for the long-term benefits.* Log cultivated medicinal mushrooms have many advantages; the main advantage of log cultivation being that one can harvest all parts of the mushroom for a high concentration of all constituents, especially the polysaccharides, while also including the acids which have their highest concentration in the mycelium.
Outdoor lab-grown log-cultivation also produces a consistent supplement that will easily work without any natural variances found in wild mushrooms that could impair potency, due to the attentive detail to cultivation in a controlled environment.
And lastly, outdoor lab-grown log-cultivation allows us to harvest medicinal mushrooms sustainably without overharvesting the wild biodiversity
Lab Grown Cordyceps Is Potent And Affordable
†
We formulate using a variety of extraction techniques for multi-step potency which include:
Artisan-formulated for Wholistic Effects and Benefits
Harvesting at Times of Full Botanical Potency
All Active Parts of the Mushroom are Included in the Formula

Fruiting Body
Mycelium
Sclerotium

Cold Processed Where Appropriate to Preserve Integrity of Fragile Constituents
Dual Solvent: Water and Alcohol for 99.9% constituent content
Semi-soluble Polysaccharides Included in Suspension

Additionally Activated for Easy Digestion

Stabilized for Natural Preservation - No Preservatives
Flash-steamed for Cracked Cell-walls to Release Chitin Bound Constituents
This formulation uses higher alcohol content for extraction, 45% percent by volume, so that the immediate physical performance properties, of the alcohol stabilized fragile constituents, are exemplified. A higher alcohol extract is required to preserve the volatile constituents of acids and aromatic compounds that support adrenal, kidney and lung health.*
See our homepage for more about our methods.
---
Ingredients
Cordyceps Mushroom (Ophiocordyceps sinensis/Paecilomyces hepialid) fruiting body, mycelium, sclerotium

CS-4
Organic USA Grown Hardwood

Structured Distilled Water
Triple Filtered USP Grade Organic Alcohol (45% by volume)
---
Dosage*
Recommended Dosage: 500 – 4,500 milligrams @ 1-2 times a day*
Cordyceps Dosage Equation:
The dosage of most tonics work by bodyweight and activity level and dietary factors. The amount of cordyceps taken is dependent on bodyweight and activity level.
BW + AL + DF
Bodyweight (BW) is the overall weight measured by a bathroom or locker room scale.
Activity level (AL) is a relative unit based on the amount of work accomplished, stress-levels and fitness-intensity.
Diet factors (DF) are based on how much calories and food is taken in, such as protein, fat and carbohydrates.
Estimated Daily Dosage:
BW = 1 dropper per ~100 pounds bodyweight

AL = + 1-3 droppers - 1 low, 2 medium, 3 high

DF = + 1 dropper for every 3000 kcals reached
Example #1: 155lb person (BW = 1 dropper) who is going for a hard trail-hike (AL = 3 droppers) and eats ~2250 kcals (DF = 0 dropper) would have a functional dosage of ~4 droppers daily divided into 1-2 doses across the day.
Example #1 is BW 1 + AL 3 + DF 0 = 4 droppers
Example #2: 250lb person (BW = 2 dropper) who is going for a jog on a day-off (AL = 1 dropper) and eats ~1850 kcals (DF = 0 droppers) would have a functional dosage of ~3 droppers daily divided into 1-2 doses across the day.
Example #2 is BW 2 + AL 1 + DF 0 = 3 droppers
To find a functional dose, start with a minimum dose of 10 drops to 1 dropper and work up to a functional dose.* Many benefits of tonics come from consistent and continued use over a period of time.*
Cordyceps dropper:
60 1ml droppers in a 2oz (60ml) bottle
1ml dropper = ~1,500 mgs cordyceps extract
Cordyceps drops:
30 drops in a 1ml dropper
1 drop = ~50 mgs cordyceps extract
Suggested Cordyceps Cycle:*
Initial Phase = 5-30 days
Long Term = 30-90 days
Continuous consumption of Cordyceps will yield increasing benefits and performance results over the time consumed; in other words, consistent daily consumption of Cordyceps at a functional dosage over the period of suggested time will increase health and boost performance.*
After an initial cycle Cordyceps may be continued on-and-off for the long term cultivation of health or traded-out for another tonic adaptogen superfood.*
---
How to Take
Cordyceps is a versatile adaptogen that will invigorate the body for physical stamina, oxygenate the mind for mental tasking, and harmonize the spirit for practice.* Best to take toward the morning and midday to take full advantage of the lasting stamina benefits.*
Benefits with tonics take time; taking enough consistently rewards health
†
Take as desired: consume on a continuous basis to develop the natural tonic and adaptogenic benefits that build over time.* Some benefits are immediate and some results require consumption over several days and weeks to accomplish.* A good tonic cycle is 45-90 days of a tonic adaptogen which will generate lasting health changes.*
Shake gently: secure the lid and turn the bottle over back-and-forth 3-5 times to evenly distribute the tincture. Do not over-shake as the vigorous mixing of air with the extract will oxidize and damage many of the necessary constituents for required dosage and potency.
By mouth: hold the liquid under the tongue for 60-90 seconds and then swallow the rest of extract; doing so allows digestion to begin in the mouth and will take advantage of the activated multi-step extract so that many of the constituents will bypass digestion and enter the body through the mouth and throat.* Holding the extract also promotes better absorption and assimilation and elicits an immediate effect that is performance oriented*
Mix with water: squirt the drops or entire droppers into 2-4 oz. of water that is under 120*F. Water that is cool to lukewarm temperature is best to preserve the volatile and fragile constituents from being damaged and denatured which will reduce the potency of the extract.* Sip slowly to allow absorption in the mouth and throat.* This method makes it easier to become accustomed to the extract and to take larger doses of several different tinctures at once in a tonic program.*
For maximum potency: regularly consume the tincture within a period of 45 days; after 45 days of continuous consumption the extract may begin to gradually lose potency requiring a larger dosage to achieve similar benefit.* A bottle will generally last 10-30 days depending on dosage and concurrent supplementation programming.*
Further dosage reference: How to Take a Tonic Tincture
---
Tincture Details
Tincture Type:
• Multi-step Hydroalcohol
Serving Size:
• 1 dropper
Daily Usage:
• 1-3 droppers 1-3 times per day
Extraction Ratio:
• 3 pounds into 1 quart - 144,000mgs per 2oz. bottle
Manufacture Date:
• September 28th 2022
Expiration:
• 2 Years from manufacture
Expiration & Storage Information
Made In Oregon USA
---
Label
Cordyceps Mushroom Tincture is ~1500mgs extract per 1ml dropper.
---
Questions and Answers
Common questions about Cordyceps supplementation.
Please submit any question via our contact form.
Q: How does cordyceps work?
A: In two main ways. By boosting immune function and increasing respiration of oxygen. More oxygen usage in the body will promote greater well-being and performance.
Q: Does cordyceps help hormones?
A: Yes, like many tonics, cordyceps will support adrenal hormones from continuous consumption.
Q: What is the best way to take cordyceps?
A: Take cordyceps with complete meals for best results, especially the stamina and performance benefits.
Q: When should I take cordyceps?
A: Take cordyceps once a day minimum and up to 2 or 3 times a day. What is most important is to be consistent with the dosages over a few weeks as the tonic effects will build over time. Also, take towards the beginning of the day with a complete breakfast and/or before physical activity and work.