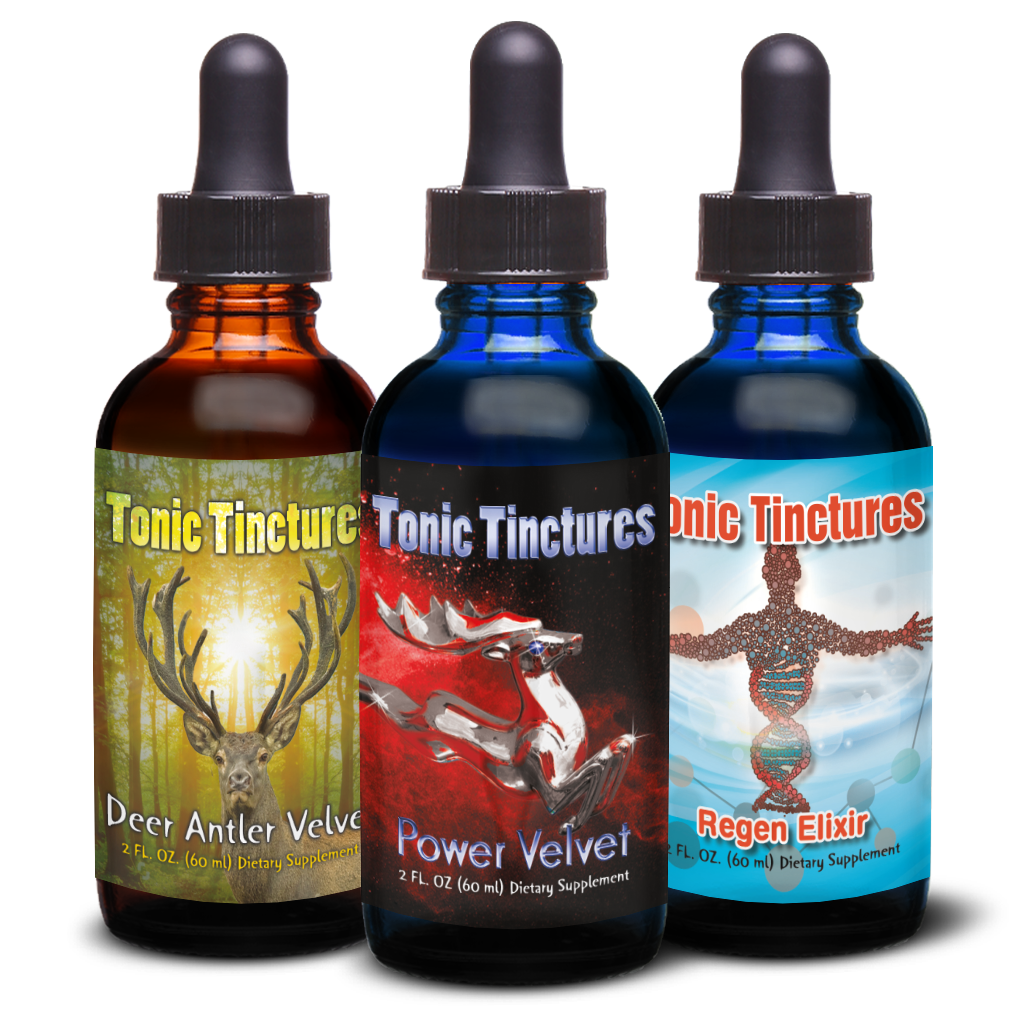 Power Pack
Discounts Taken from Single Bottle Price

1 Pack + Free Shipping
2 Pack @ 10% Off + Free Shipping
3 Pack @ 15% Off + Free Shipping
6 Pack @ 20% Off + Free Shipping
12 Pack @ 25% Off + Free Shipping
&nbsp
---
Power Pack Poster
†
---
Plug Into The Power Pack!
The Power Pack is a three-pack deal to maximize supplementation with deer antler velvet by taking enough of it consistently for best results. The key to deer antler velvet supplementation is consistency, which is why there is three formulated versions:
---
---
The 3 Types of Tonic Tinctures Deer Antler Velvet
---
See further down the page for dosage and timing suggestions.
---
---
Lifestyles*
---
Dosage & Timing*
Taking the Power Pack Ensures Success.
Each version of deer antler velvet is formulated to support specific activities and specific times of day. You may open each bottle one-at-a-time to figure-out each one individually or if you are a 'seasoned' taker of deer antler velvet, jump right into all 3!
See Samples Days for Timing, and Specific Dosages with How To Take below:
---
SAMPLE DAY TIMING #1
Exercise/Fitness Day
Morning/Before Work - 1-3 droppers

Deer Antler Velvet

around breakfast
Exercise/Athletics - 1-3 droppers

Power Velvet

15-30 minutes before physical activity
Evening/Dinner - 1-3 droppers

Regen Elixir

with high-protein meals/shakes
---
SAMPLE DAY TIMING #2
Non-Exercise/Rest Day
Morning/Before Work - 1-3 droppers

Power Velvet

 around breakfast
Midday/Lunch - 1-3 droppers

Deer Antler Velvet

around lunch/early afternoon
Evening/Dinner - 1-3 droppers

Regen Elixir

with high-protein meals/shakes
---
SPECIFIC DOSAGES
HOW TO TAKE
Deer Antler Velvet

&

Power Velvet

&

Regen Elixir

&
---
Deer Antler Velvet Handbook
Navigation
Scroll and Click Buttons Below to Navigate Handbook