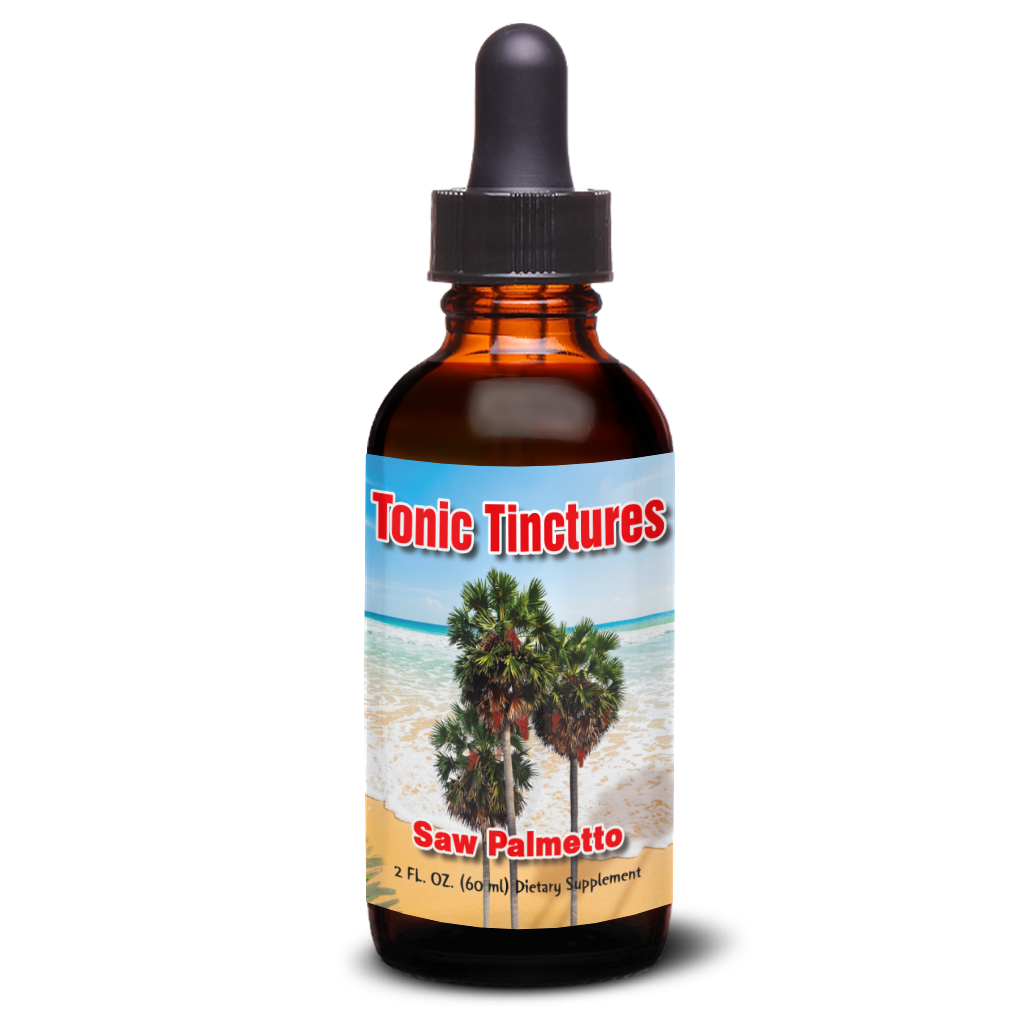 Saw Palmetto
Discounts Taken from Single Bottle Price

1 Pack + Free Shipping
2 Pack @ 10% Off + Free Shipping
3 Pack @ 15% Off + Free Shipping
6 Pack @ 20% Off + Free Shipping
12 Pack @ 25% Off + Free Shipping
&nbsp
---
Saw Palmetto Poster
†
Saw Palmetto Has These Key Benefits:
Nutritive berry containing vitamins and minerals*
Support physical endurance and daily stress resistance*
Promote respiratory function, lung strength and health*
Support joint lubrication and relief of minor joint discomfort*
Promote endocrine function and healthy hormones*
Support physique enhancement goals*
Maintain urinary function in men*
---
| | |
| --- | --- |
| | |
---
Benefits and Uses*
---
Lifestyles*
---
Description*
Sabal palms grow highly nutritive berries that grow in the sandy soils along the east coast of the USA. Saw palmetto berries have long been used by herbalists for their ability to build-the-body-up with their tonifying health benefits that come from many nutrients such as: vitamins, trace minerals, plant pigments and high concentration of phytosterols.*
---
Also known as 'serenoa repens', Saw Palmetto berries come from the wild small palm trees that grow up to 10 feet tall. They grow up to 500-700 years' old in the subtropical plains and hills of sand within Florida, in the Southeastern United States.
---
Adrenal and Reproductive Hormones*
Overall saw palmetto is essentially raw material for herbal hormones.*
---
Traditionally, it has been used as a hormone tonic for both males and females.* The natural unique fats called phytosterols, specifically known as beta-sitosterol, naturally promote reproductive and adrenal hormones in both men and women; meaning more raw materials for the body to produce hormones and more balanced hormones in both males and females.*
---
Take Saw Palmetto with an Appropriate Hormone Promoting Diet:
Females may promote the health of their reproductive organs*
Males may promote muscularity and urinary health*
---
The phytosterols also support the production of adrenal hormones, thus increasing resistance to stress and recovery from it.*
---
Lungs and Joint Health*
The sterols found in saw palmetto may also be used by the body for moistening the lungs and joints for greater ease of movement.* And larger daily doses will help to boost breathing function and maintain joint health.*
---
Batch Specs
Saw Palmetto Is An Add-On Tonic To Any Program
†
We select wildcrafted Saw Palmetto berries from sabal palms along the Florida seacoast for a high mineral profile and seed phytosterol content.
---
We extract for a creamy tincture full of the hormone supporting phytosterols that are semi-soluble in suspension. Also we ensure a high trace mineral content to support enzyme function and balanced hormonal metabolism.*
---
We formulate using a variety of extraction techniques for multi-step potency which include:
Artisan-formulated for Wholistic Effects and Benefits
Harvesting at Times of Full Botanical Potency
All Active Parts of the Berry and Seed Extracted and Preserved

Cold Processed Where Appropriate to Preserve Integrity of Fragile Constituents

Dual Solvent: Water and Alcohol for 99.9% constituent content

Semi-soluble Phytosterols Included

Stabilized for Natural Preservation - No Preservatives
Activated for Easy Digestion and Assimilation
This formulation uses moderate alcohol, 35% by volume.
See our homepage for more about our methods.
---
Ingredients
Saw Palmetto Berry (serenoa repens) wild harvested
Structured Distilled Water
Triple Filtered USP Grade Organic Alcohol (35% by volume)
---
Dosage*
Recommended Dosage: 500-1000 milligrams @ 1-3 times a day*
Saw Palmetto Dosage Equation:
The dosage of most tonics work by bodyweight and activity level and dietary factors. The amount of saw palmetto taken is dependent on bodyweight and activity level.
BW + AL + DF
Bodyweight (BW) is the overall weight measured by a bathroom or locker room scale.
Activity level (AL) is a relative unit based on the amount of work accomplished, stress-levels and fitness-intensity.
Diet factors (DF) are based on how much calories and food is taken in, such as protein, fat and carbohydrates.
Estimated Daily Dosage:
BW = 1 dropper per ~100 pounds bodyweight

AL = + 1-2 droppers - 1 low/medium, 2 medium/high

DF = + 0-1 droppers for every ~75 gram protein reached
Example #1: 135lb person (BW = 1 dropper) who is working at a busy job (AL = 1-2 droppers) and eats ~100 gram of protein (DF = 0-1 dropper) would have a functional dosage of ~2-4 droppers daily divided into 1-3 doses across the day.
Example #1 is BW 1 + AL 1-2 + DF 0-1 = ~2-4 droppers
Example #2: 190lb person (BW = 1 dropper) who is lifting weights and working an office job (AL = 2 droppers) and eats ~200 gram of protein (DF = 0-2 droppers) would have a functional dosage of ~5 droppers daily divided into 1-3 doses across the day.
Example #2 is BW 1 + AL 2 + DF 0-2 = ~3-5 droppers
To find a functional dose, start with a minimum dose of 15 drops to 1 dropper and work up to a functional dose.* Many benefits of tonics come from consistent and continued use over a period of time.*
Saw Palmetto dropper:
60 1ml droppers in a 2oz (60ml) bottle
1ml dropper = ~1000 mgs saw palmetto berry extract
Saw Palmetto drops:
30 drops in a 1ml dropper
1 drop = ~33 mgs saw palmetto berry extract
Suggested Saw Palmetto Cycle:*
Initial Phase = 15-45 days
Long Term = ∞
Optional Cycle-off Period = 7-30 days
Continuous consumption of Saw Palmetto will yield increasing benefits and results over the time consumed; in other words, consistent daily consumption of Saw Palmetto at a functional dosage over the period of suggested time will increase health and wellness benefits.*
After an initial cycle Saw Palmetto may be continued on-and-off for long-term supplementation health benefits or traded-out for another tonic adaptogen superfood.*
Suggested Timing:
---
How to Take
Saw Palmetto may be taken any time, especially around meal and snack times, such as a being added directly to a protein shake.
Benefits with tonics take time; taking enough consistently rewards health
†
Take as desired: consume on a continuous basis to develop the natural tonic and adaptogenic benefits that build over time.* Some benefits are immediate and some results require consumption over several days and weeks to accomplish.* A good tonic cycle is 45-90 days of a tonic adaptogen which will generate lasting health changes.*
Shake gently: secure the lid and turn the bottle over back-and-forth 3-5 times to evenly distribute the tincture. Do not over-shake as the vigorous mixing of air with the extract will oxidize and damage many of the necessary constituents for required dosage and potency.
By mouth: hold the liquid under the tongue for 60-90 seconds and then swallow the rest of extract; doing so allows digestion to begin in the mouth and will take advantage of the activated multi-step extract so that many of the constituents will bypass digestion and enter the body through the mouth and throat.* Holding the extract also promotes better absorption and assimilation and elicits an immediate effect that is performance oriented*
Mix with water: squirt the drops or entire droppers into 2-4 oz. of water that is under 120*F. Water that is cool to lukewarm temperature is best to preserve the volatile and fragile constituents from being damaged and denatured which will reduce the potency of the extract.* Sip slowly to allow absorption in the mouth and throat.* This method makes it easier to become accustomed to the extract and to take larger doses of several different tinctures at once in a tonic program.*
For maximum potency: regularly consume the tincture within a period of 45 days; after 45 days of continuous consumption the extract may begin to gradually lose potency requiring a larger dosage to achieve similar benefit.* A bottle will generally last 10-30 days depending on dosage and concurrent supplementation programming.*
Further dosage reference: How to Take a Tonic Tincture
---
Tincture Details
Tincture Type:
• Multi-step Hydroalcohol
Serving Size:
• 1 dropper
Daily Usage:
• 1-3 droppers 1-3 times per day
Extraction Ratio:
• 2 pounds:1 quart - 57,000mgs to 2oz.(60ml)
Manufacture Date:
• April 18th 2023
Expiration:
• 2 Years from manufacture
Expiration & Storage Information
Made In Oregon USA
---
Label
Saw Palmetto Tincture is 1000mgs extract per 1ml dropper.
---
Questions and Answers
Common questions about Saw Palmetto supplementation.
Please submit any question via our contact form.
Q How long does it take for saw palmetto to work?
A: When taking enough Saw Palmetto, anywhere from 1-2 weeks should be enough time to notice if Saw Palmetto is working for you. Be aware that many hormone tonics can take a while to work since they work with the body's glands. Overall a 60-90 day cycle with a healthy hormone promoting diet will be enough time to realize benefits.
Q How do I know if saw palmetto is working for my prostate?
A: Simple. Are you urinating better? Be sure to take with protein meals, such as eggs to promote hormone production for best results. Since the prostate is a male gland, better prostate health comes from higher testosterone.
Q: Does saw palmetto increase testosterone?
A: In men, yes. Saw palmetto is high in phytosterols which are raw material for hormones. It will therefore help produce more masculinizing hormones in males and more feminizing hormones in females such as progesterone and estrogen. Saw palmetto may be taken with ginseng to further enhance hormone boosting benefits.
Q: Does saw palmetto help hair growth?
A: Yes, since it contains essential minerals while also boosting hormones that are necessary for hair growth. Be sure to eat enough proteins and healthy fats in the diet and take hair vitamins like Biotin to help. Blood Grail is a great tonic to combine with Saw Palmetto to promote healthy hair. As is Deer Antler Velvet and Pearl which promote growth from their growth factor peptides and high mineral contents.
Q: Does saw palmetto enlarge breasts?
A: Saw Palmetto is an old-school traditional herbal hormone tonic due to it's phytosterol content and essential mineral content. It is used with a complete diet full of proteins and healthy fats. Healthy fats, such as EFAs and cholesterol are used as raw materials for hormone production. Take 2 droppers with a complete breakfast and take 2 droppers with a protein shake and flax or fish oil. Include avocado in the daily diet with eggs or other high quality proteins and fats. This desired benefit may take a minimum of 15-45 days to begin to show as part of an appropriate hormone boosting diet and lifestyle. Don't skip meals and do not eat incomplete meals as these will nullify hormone benefits.
Q: How do I make Saw Palmetto work for hormone production?
A: Since Saw Palmetto boosts hormones, you will achieve best results by eating a complete diet that will assist hormone production. Saw Palmetto contains plenty of plant-derived minerals and phytosterols to promote glandular health and hormone production. This is how Saw Palmetto assists the prostate by promoting testosterone production and metabolism; same with female hormones like progesterone and estrogen for health breasts. A complete diet with fats from eggs and butter with quality proteins such as meats, including chicken, fish and beef, are especially good to take with Saw Palmetto. EFA's are essential for hormone production, so feel free to add fish or flax oil daily.
Q: What other tonics can I take to maximize hormone production with saw palmetto?
A: Ginseng is the best combination. Women and men can take any ginseng, but American Ginseng is highest in plant sterols such as ginsenosides, which also support hormones. Another option is Black Ant which supports hormones from high amounts of minerals such as zinc. Additionally, if hormone metabolism and detox is desired while boosting hormones, a common interest for women, than select a medicinal mushroom like Chaga or a liver and blood tonic like Blood Grail.
Q: I was wondering if I could use your saw palmetto tincture topically for hair growth?
A: Saw Palmetto won't really work. Hair growth tends to be related to protein and circulation. Promoting hair growth with herbs and tonics tends to be specific to the person. But building up health overall is usually the best route to take since strong hair growth represents a stronger constitution. You could consider blood building tonics like our Berry Blood and Blood Grail with a complete meals full of nutrient-density and a vitamin and mineral hair supplement.
Q: Why do I get a headache when taking Saw Palmetto, is this a side-effect?
A: It is possible to have a reaction to a supplement from taking it with a poor incomplete diet or by taking a supplement improperly. There are few reasons why. 1. Our Saw Palmetto contains a very concentrated mineral/salt extraction of the berry with lots of antioxidants from the red skin. Stay hydrated. 2. Not enough food, if one is not eating enough healthy fats and proteins Saw Palmetto will not correctly work to boosts hormones which can stress the body out. If this happens, stop taking Saw Palmetto for a couple days and only take it with complete meals full of protein and fat. Note: Saw Palmetto isn't a drug so it doesn't have side-effects.
Q: I would like to gain weight and have read Saw Palmetto can help?
A: Saw Palmetto will assist hormone production for gaining weight, so it is best to add to complete balanced meals full of protein and fats. Also please see our Tips for Taking Tonics Article in the endocrine section for ideas of foods to eat daily while taking saw palmetto. Overall, to make a tonic work, you have to tonify by taking it consistently over a period of time, which is called tonification. Hormonal changes for gaining weight and with other hormone related benefits of saw palmetto will take upward of 1-3 months for natural changes to begin to show. A 6 pack is a good idea, with our bulk 20% off deal. Feel free to add other ideas for hormonal health to saw palmetto to help it work better.