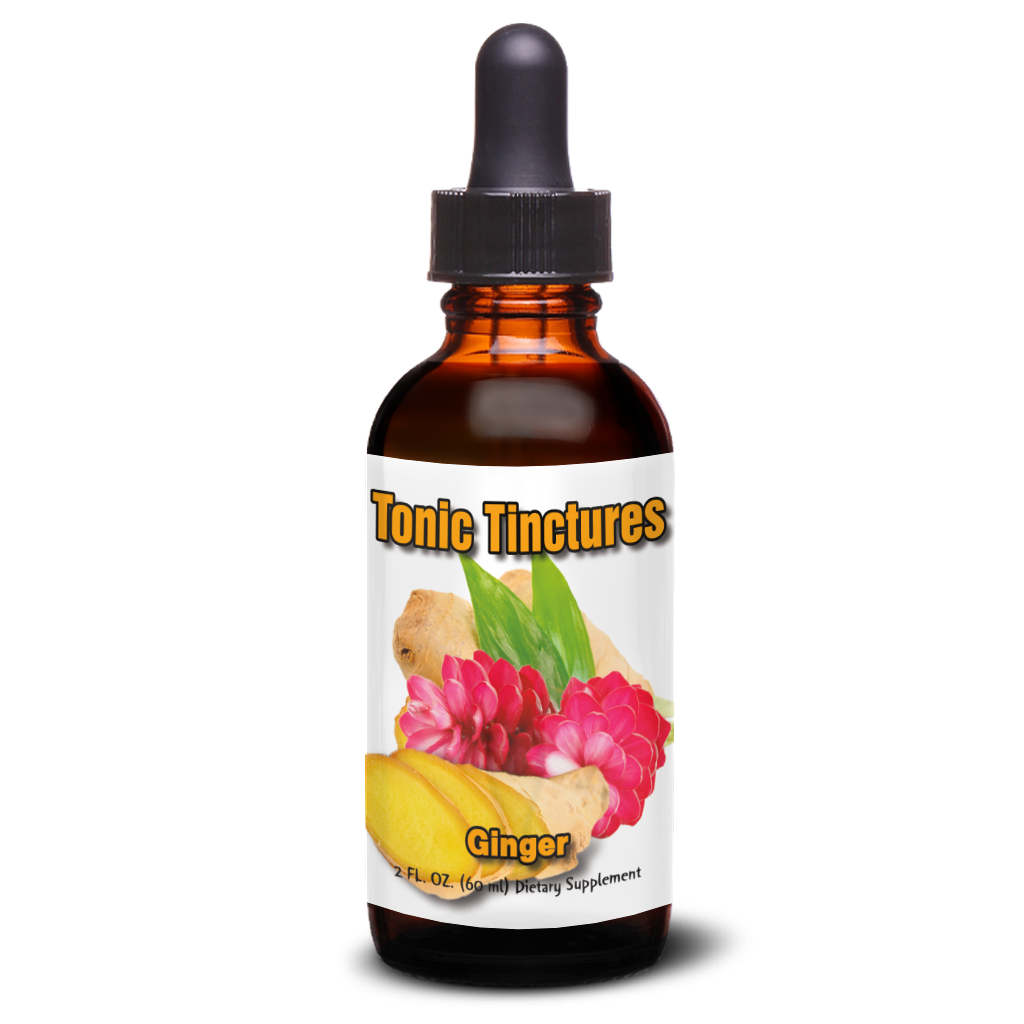 Ginger
Discounts Taken from Single Bottle Price

1 Pack + Free Shipping
2 Pack @ 10% Off + Free Shipping
3 Pack @ 15% Off + Free Shipping
6 Pack @ 20% Off + Free Shipping
12 Pack @ 25% Off + Free Shipping
&nbsp
---
Ginger Poster
†
---
Ginger Formula Contains:
Fresh

Ginger Roots (Organic)

Sweet and spicy tastes for digestive health

Dried

Ginger Roots (Organic)

Pungent and spicy tastes for circulation and warmth
Ginger Has These Key Benefits:
Promote digestive health*
Boost food and nutrient absorption*
Support liver metabolism*
Support heart circulation and blood-flow*
Promote warmth in the body and muscles*
---
| | |
| --- | --- |
| | |
---
Benefits and Uses*
---
Lifestyles*
---
Description
Ginger root, that is of 'tonic' quality, is recognized by a strong spicy flavor that is felt throughout the entire body; it is the invigorating hot tingle that drives the energy and blood into circulation, therefore making ginger root a primo amplification tonic for any diet or lifestyle. The spiciness of ginger root will activate the immediate effects of any other tonic adaptogen when they are taken together concurrently; hence, the use of ginger root is a prerequisite to becoming a proficient tonic herbalist.*
---
Top grade ginger root of the finest quality is selected for lowest fiber content and all sugar and spice making for a super-sweet and extra-hot tonic that demands the attention of aficionados.
---
Ginger is a Versatile Tonic.*
It amplifies the nutritive absorption of foods and supplements by promoting digestive juices and blood circulation in the stomach.* For this same reason, ginger root settles a stomach by restoring equilibrium and releasing tension in the digestive muscles.*
---
Interestingly, ginger root also even helps reduce the negative impact of caffeine and alcohol on our bodies and promotes recovery from their responsible use.* This is because ginger increases blood flow to-and-from the liver, thereby promoting liver detoxification function.*
---
It is Important to Incorporate Ginger into Your Daily Supplement Progam.*
Ginger is an easy-to-use daily supplement for it's direct combination of noticeable health benefits:*
Digestive Health*
Food Absorption*
Circulation and Heart Health*
Liver Metabolism of Fats and Toxins*
---
As a Tonic Herbalist;
Ginger may be added to any herbal program for increased benefits and effects of any particular tonic, adaptogen, and medicinal herb.*
Of notable benefit are when ginger is added to the supplementation of:
---
Also ginger is already added to the following tonics as an integral part of their formulation to increase their overall efficacy:*
Because of the super concentration of Black Ant, ginger is part of the formulation for increasing digestive absorption.*
---
Batch Specs

Fresh Roots And Dried Roots Make A Well-Rounded Tincture †
We formulate using a variety of extraction steps and techniques for full-spectrum potency which include:
Artisan-formulated for Wholistic Effects and Benefits
Both Fresh Harvested and Dried Organically Grown Ginger Root
All Active Parts of the Root Extracted and Preserved

Cold Processed Where Appropriate to Preserve Integrity of Fragile Constituents

Dual Solvent: Water and Alcohol for 99.9% constituent content
Stabilized for Natural Preservation - No Preservatives
Moderate alcohol, 35% by volume, to capture the spiciness in full tonic potency.
See our homepage for more about our methods.
---
Ingredients
Both Dried and Fresh Ginger Root (Zingber offiicinale) Organic
Structured Distilled Water
Triple Filtered USP Grade Organic Alcohol (35% by volume)
---
Dosage*
Recommended Dosage: 167 - 1,500 milligrams @ 1-3+ times a day*
Ginger Dosage Equation:
Tonics dosages work by bodyweight, activity levels, and dietary factors. The amount of ginger taken is dependent on bodyweight, but is dependent mostly on diet factors.
BW + AL + DF
Bodyweight (BW) is the overall weight measured by a bathroom or locker room scale.
Activity level (AL) is a relative unit based on the amount of work accomplished, stress-levels and fitness-intensity.
Diet factors (DF) are based on how much calories and food is taken in, such as protein, fat, and carbohydrates.
Estimated Daily Dosage:
BW = 1 dropper per ~100 pounds bodyweight

AL = + 0-1 droppers - 0 low/medium, 1 medium/high

DF = + 10 drops to 1 dropper for every meal/snack as desired
Example: 185lb person (BW = 1 dropper) who is travelling by plane (AL = 0-1 droppers) and is eating 3 meals on-the-road with 1 midafternoon snack (DF = 40 drops to 4 droppers) would have a functional dosage of ~2-6 droppers daily divided into 1-5 doses across the day.
Example is BW 1 + AL 0-1 + DF ~1-4 = ~2-6 droppers divided into several doses of 10-20 drops or entire droppers
To find a functional dose, start with a minimum dose of 10 drops to 1 dropper and work up to a functional dose.*
Ginger dropper:
60 1ml droppers in a 2oz (60ml) bottle
1ml dropper = ~500 mgs ginger root extract
Ginger drops:
30 drops in a 1ml dropper
1 drop = ~17 mgs ginger root extract
Suggested Ginger Cycle:*
Initial Phase = 1+ days
Health Cultivation = ∞
Continuous consumption of ginger root is okay and may be used as one pleases.
Suggested Timing:
---
How to Take
Ginger may be taken anytime.*
Use during meals and snacks to promote digestion.*
Take with juices, protein shakes and any other beverage.*
Add ginger root to any other tonic adaptogen.*
While travelling as an aid to maintain wellbeing.*
Benefits with tonics take time; taking enough consistently rewards health
†
Take as desired: Consume on a continuous basis to develop the natural tonic benefits that build over time.* Some benefits are immediate and some results require consumption over several days and weeks to accomplish.*
Shake gently: Secure the lid and turn the bottle over back-and-forth 3-5 times to evenly distribute the tincture. Do not over-shake as the vigorous mixing of air with the extract will oxidize and damage many of the necessary constituents for required dosage and potency.
By mouth: be warned! it's spicy hot! Hold the liquid under the tongue for 60-90 seconds and then swallow the rest of extract. Doing so allows digestion to begin in the mouth and will take advantage of the activated multi-step extract, so that many of the constituents will bypass digestion and enter the body through the mouth and throat.* Holding the extract in the mouth also promotes better absorption and assimilation, eliciting an immediate effect that is performance oriented*
Mix with water: Squirt the drops or entire droppers into 2-4 oz of water that is under 120*F. Cool to lukewarm water is best to preserve the volatile and fragile constituents from being damaged and denatured which will reduce the potency of the root extract.* Sip slowly to allow absorption in the mouth and throat.* This method makes it easier to become accustomed to the extract and to take larger doses of several different tinctures at once in a tonic program.*
For maximum potency: Regularly consume the tincture within a period of 45 days. After 45 days of continuous consumption, the extract may begin to gradually lose potency, requiring a larger dosage to achieve similar benefit.* A bottle will generally last 10-30 days, depending on dosage and concurrent supplementation programming.*
Further dosage reference: How to Take a Tonic Tincture
---
Tincture Details
Tincture Type:
• Multi-step Hydroalcohol
Serving Size:
• 1 dropper
Daily Usage:
• 1-3 droppers 1-3 times per day
Extraction Ratio:
• 1 pound : 1 quart - 28,500mgs to 2oz.(60ml)
Manufacture Date:
• April 5th 2023
Expiration:
• 2 Years from manufacture
Expiration & Storage Information
Made In Sisters Oregon USA
---
Label
Ginger Tincture is ~500mgs extract per 1ml dropper.
---
Questions and Answers
Common questions about Ginger supplementation.
Please submit any question via our contact form.
We currently do not have any questions, please ask one.
Last updated January 10th 2020.
Q:A
: