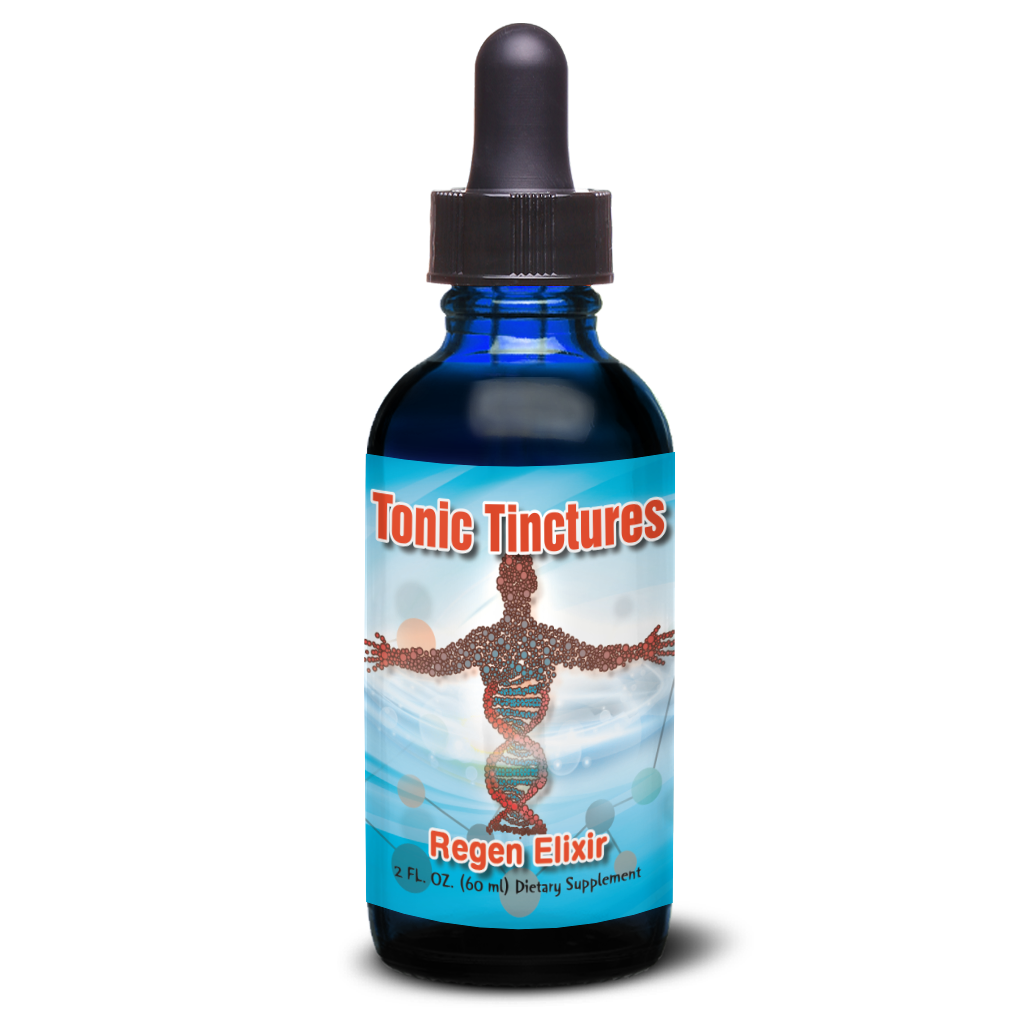 Regen Elixir
Discounts Taken from Single Bottle Price

1 Pack + Free Shipping
2 Pack @ 10% Off + Free Shipping
3 Pack @ 15% Off + Free Shipping
6 Pack @ 20% Off + Free Shipping
12 Pack @ 25% Off + Free Shipping
&nbsp
---
Regen Elixir Poster
†
---
Re-Gen
for
Re-Gen-eration!
---
Regen Elixir Formula Contains:
Regen Elixir Formula Has These Key Benefits:
Maintain and support repair of DNA and support RNA replication for

healthy cells

*
Promote

endocrine

function*

Regeneration

hormones*
Healthy growth*

Adrenal

hormones*
Balanced sex hormones*

Promote joint, bone, tissue and muscular repair and recovery*
Support injury repair and regeneration of tissues*
Promote work posture and exercise form*
Relief of minor joint aches and muscle discomfort*
Build

immune

function*
Support digestion and protein assimilation*
Support liver metabolism of

fats

and

hormones

*
Support daily stress-resistance*
---
Tincture Details
Tincture Type:
• Multi-step Hydroalcohol
Serving Size:
• 1 dropper
Daily Usage:
• 1-3 droppers 1-3 times per day
Extraction Ratio:
• 1 pound:1 quart - 28,500mgs to 2oz.(60ml)
Manufacture Date:
• July 16th 2023
Expiration:
• 2 Years from manufacture
Expiration & Storage Information
Made In Oregon USA
---
Label
Regen Elixir Tincture is 500mgs extract per 1ml dropper.
---
Questions and Answers
Common questions about Regen Elixir supplementation.
Please submit any question via our contact form.
Review our most popular version of Deer Antler Velvet for more Q & A.
Q: What do NZD+HGT and NZD+PV+HGT mean in the variants drop down selection menu?
A: NZD+HGT is for the Twin Pack combo @ 10% off where NZD = Deer Antler Velvet and HGT = Regen Elixir. NZD+PV+HGT is for the Power Pack Combo @ 20% off where PV = Power Velvet.
Q: Why should I use Regen Elixir?
A: Regen Elixir uses deer antler velvet in combination with other tonics that assist endocrine function and hormones while supporting assimilation of food. The additional tonics within Regen Elixir promote endocrine function for growth and regeneration hormones to assist repair of tissues, such as bone, joint, and muscle, as well as promoting better recovery from daily work and physical exercise.
Q: When do I take Regen Elixir?
A: Regen Elixir is optimally taken during meal time, the closest meal towards bedtime, such as dinner. You may take it with other meals also. Ensure meals are complete and contain quality proteins. For fitness, physique and performance lifestyles, Regen Elixir is used best as part of the Power Pack.