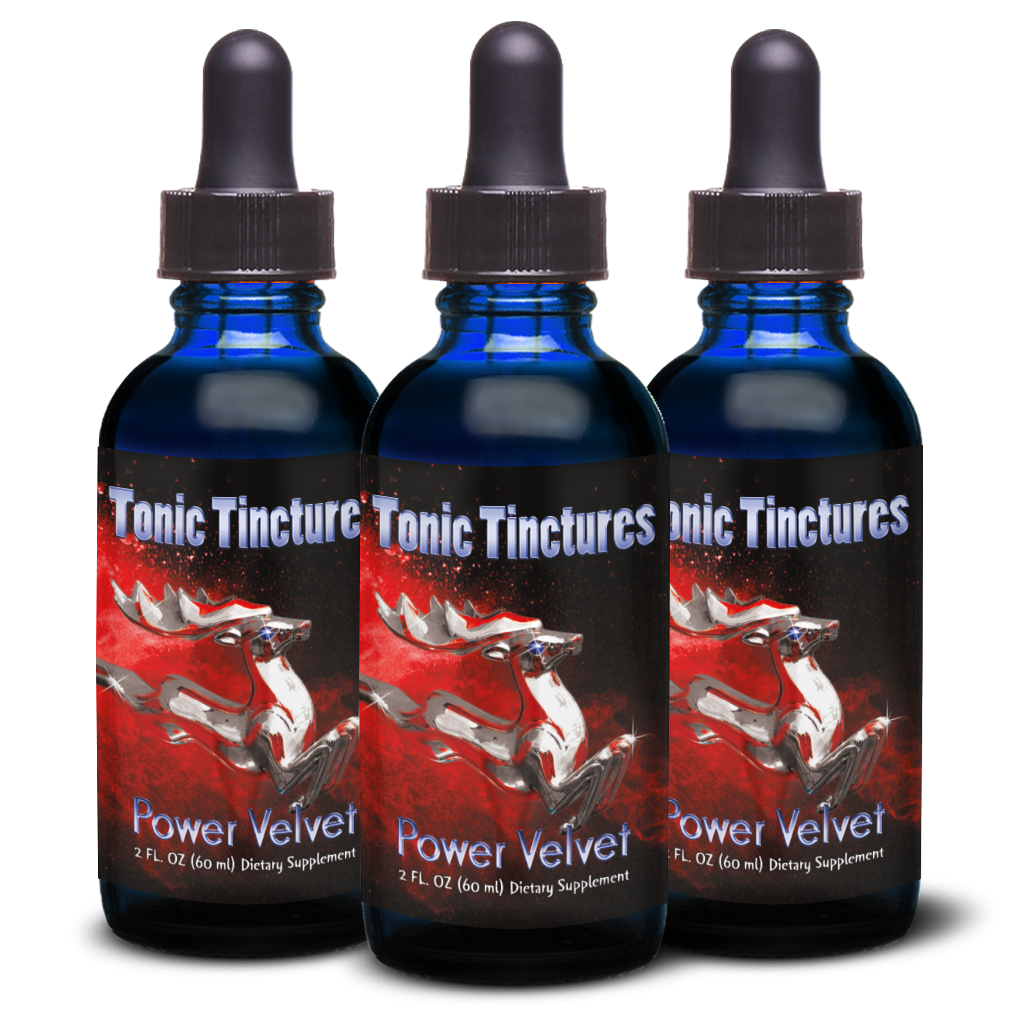 Power Velvet
Discounts Taken from Single Bottle Price

1 Pack + Free Shipping
2 Pack @ 10% Off + Free Shipping
3 Pack @ 15% Off + Free Shipping
6 Pack @ 20% Off + Free Shipping
12 Pack @ 25% Off + Free Shipping
&nbsp
---
Power Velvet Poster
†
---
Power Velvet Has These Key Benefits:
Promote physical

stamina

and endurance*
Promote muscular

strength

and joint

flexibility

*
Promote vascular

performance

and heart

circulation

*
Promote red blood cell production*
Support healthy

weight-loss

*
Support physique enhancement goals*
Relief from minor

aches

and

discomfort

in joints and muscles *
Promote physical

recovery

and injury

repair

*
Support endocrine function and healthy hormones*

Regeneration hormones*
Healthy growth*
---
---
---
Tincture Details
Tincture Type:
• Multi-step Hydroalcohol
Serving Size:
• 1 dropper
Daily Usage:
• 1-3 droppers 1-3 times per day
Extraction Ratio:
• 1 pound : 1 pint - 57,000mgs to 2oz.(60ml)
Manufacture Date:
• August 7th 2023
Expiration:
• 2 Years from manufacture
Expiration & Storage Information
Made In Oregon USA
---
Label
Power Velvet Tincture is ~1000mgs extract per 1ml dropper.
---
Questions and Answers
Common questions about Power Velvet supplementation.
Please submit any question via our contact form.
Review our most popular version of Deer Antler Velvet for more Q & A.
Q: What does PV+NZD+HGT mean in the variants drop down selection menu?
A: PV+NZD+HGT is for the Power Pack Combo @ 20% off where PV = Power Velvet, and NZD = Deer Antler Velvet, and HGT = Regen Elixir.
Q: Why is Power Velvet different than the other products you sell?
A: Power Velvet contains more tips which are higher in lipids that promote cardiovascular circulation and growth factors that support endocrine and hormone function. Additionally, Power Velvet is formulated with more Asian Plum Deer which is stronger in benefits and effects.
Q: How long will a bottle of Power Velvet last?
A: It depends if you are taking it once or twice a day. At once a day it will last around 3-4 weeks. If you are taking it twice a day then a bottle will last about 2-3 weeks. You may consider a 2 Pack of Power Velvet at 10% off or a discounted Power Pack to ensure better spend on funds while taking enough deer antler velvet to achieve benefits and results.
Q: When do I take Power Velvet?
A: Preferably in the morning around breakfast time or before work or physical performance. You may time the dose 30-60 mins before exercising. It is easier to take the other versions of deer antler velvet during less active times to promote recovery and regeneration.
Q: Should I take Power Velvet on an empty stomach?
A: It is not as important to take on an empty stomach, since better results are achieved by taking and holding the extract sublingually. See advice on how to take above.
Q: How do I lose weight with Power Velvet?
A: The alcohol extracts of deer antler velvet, such as Power Velvet, promote circulation and metabolism which is further enhanced by an exercise program. Many clients email us and ask us if a smaller waist is a common benefit. Yes, and this is also due to the stress-resistance benefits of tonics since impaired stress tolerance is associated with a bigger waist.
Q: Will Power Velvet promote muscle mass?
A: Only when used as part of a progressive resistance weight-lifting routine since the stimulus must be applied to the muscles to signal their growth. Many clients comment about how they experience greater strength increases on the bench and squat within the first few weeks of supplementation.
Q: Hello, I've used your deer antler velvet extracts in the past, I noticed that another company discloses the actual amount of IGF-1 and the full spectrum that it contains, I was wondering if you have such info on your power velvet? They claim they have a superior harvesting method and harvest at peak time for growth, is this all non sense? Or all those 250 dollar velvets actually something special? How much IGF-1 will I expect to find in your power velvet?
A: Please do not use other websites when taking our products as this will diminish results, effects and any success in supplementation. These questions are answered by reading the context of our website. Perhaps you could see what deer antler velvet is, with many official links for more research: Deer Antler Velvet Benefits Also, since you asked about IGF-1 and other companies we made a page to help inform clients concerning The Best Deer Antler Velvet Supplement. Also, we have a structure/function scientific analysis page that should bring insight into how deer antler velvet works: How Does Deer Antler Velvet Work?
Q: Do you make Power Velvet the traditional Chinese way or pantocrin russian way and how long do you let it steep for? I see some say 7 days, others say 21 days and yet others even 30 days. I'm confused!?
A: We are not sure what you mean by the traditional Chinese way (Chinese soup?) and we don't make Russian pantocrin, but we do a highly concentrated alcohol step as part of the extraction process, the Power Velvet has more alcohol extract than the regular Deer Antler Velvet. We don't know what the 7 days, 21 days or 30 days specifically means either since there are quite a variety of factors on how to make each step of our multi-step process, which includes the preparation and formulation of the velvet antler for extraction and down-the-line along the process. Information on how the Russians traditionally use the alcohol extract of velvet antler, known as pantocrin, is found in our blog.
Q: How are you able to sell your deer antler velvet much cheaper? Does it work the same I am kind of skeptical and hope the reviews are not fake.
A: We don't know why we don't sell bottles of deer antler velvet for $99.99 to $349.99. Maybe we should start so we don't look so cheap.
We approach this question here in the difference section of our market comparison page.