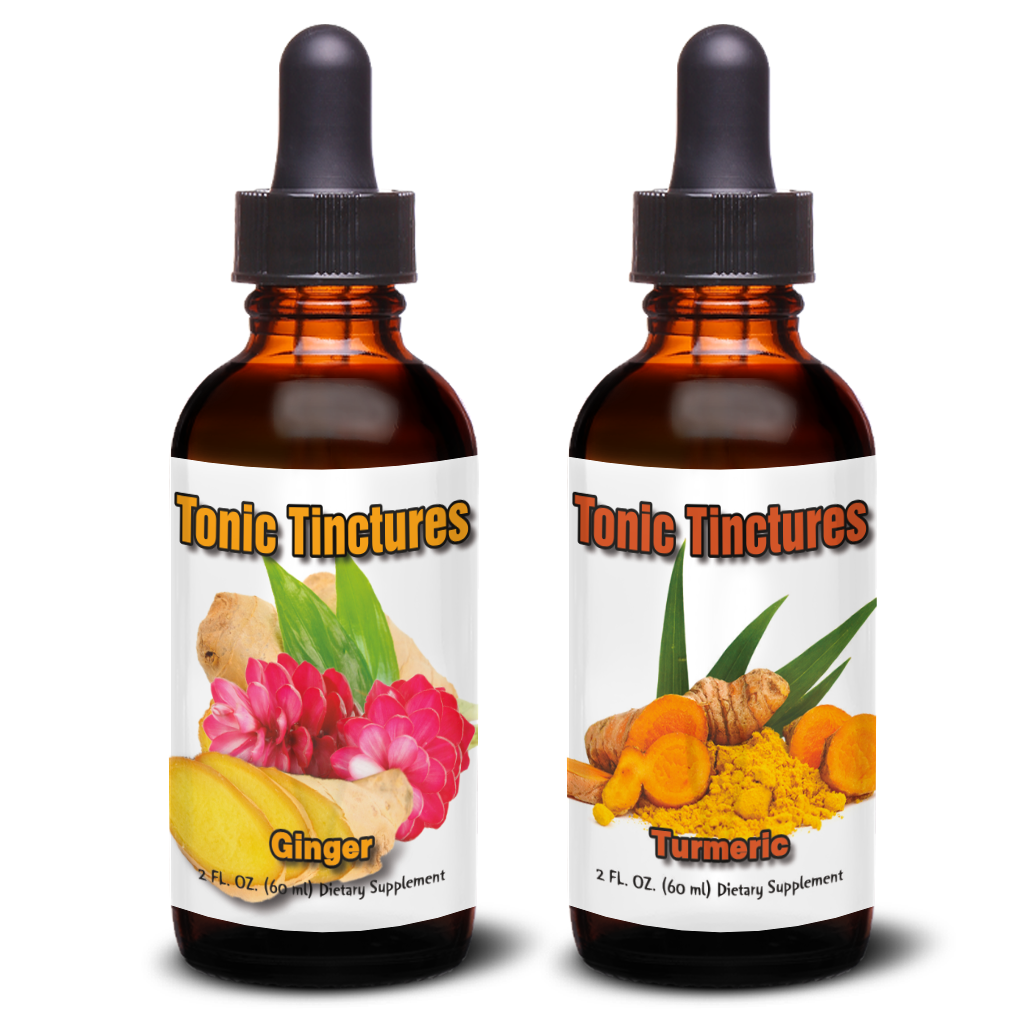 Turmeric and Ginger
Discounts Taken from Single Bottle Price

1 Pack + Free Shipping
2 Pack @ 10% Off + Free Shipping
3 Pack @ 15% Off + Free Shipping
6 Pack @ 20% Off + Free Shipping
12 Pack @ 25% Off + Free Shipping
&nbsp
---
Turmeric & Ginger Poster
†
---
Turmeric & Ginger is a dual pack of the two most versatile tonic herbal remedies for health and wellness.*
Each Tincture Is Made With Fresh and Dried Roots
Turmeric & Ginger Key Benefits:
Boost food and nutrient absorption*
Promote digestive health*
Supports immune system function
Supports heart, circulation, and vascular health.*

Supports liver function and detoxification*

Assists removal of fatigue and stress by-products*
Assists removal of environmental toxins*

Promote warmth in the body and muscles*
Promotes flexibility and assists healing*
Relief of minor aches, soreness and discomfort in joints and muscles*
Maintains healthy hormones*
Supports overall well-being and recovery*
---
Description*
When combined into any diet and supplementation program, both tonic herbs will boost digestion and digestive track health, the heart and vascular system, and liver function detoxification.*
---
Longer term consistent benefits will be a stronger immune system, improved rejuvenation, quicker recovery from short-term stresses of eating, working, and travelling, and easier flexibility with reduced joint discomfort.*
---
---
Understanding how to incorporate these tonics into your daily diet will result in overall better results with other supplements, including tonics, adaptogens, and medicinal herbs. Additionally, studying the uses and functions of ginger and turmeric is an important skill for a tonic herbalist who is understand how to better benefit from supplementation with tonics.*
These two commonly used vitalizing tonic herbs are easy to take consistently and anytime.
---
Choose Your Pack Size:
Twin Pack: One bottle of Ginger and One bottle of Turmeric (10% off)
Quad Pack: Two bottles of Ginger and Two bottles of Turmeric (15% off)
Big Pack: of Three bottles of Ginger and Three bottles of Turmeric (20% off; and a free bottle of Schisandra)
---
Feel Good with Turmeric & Ginger!
Take Turmeric & Ginger any time, in any combination, with a complete diet. You may take them separately or combine them for greater overall benefits.*
---
Suggested Timing: 2-4 times a day, at 1-4 droppers of any combination of ginger and turmeric total at a time.
---
Ginger Timing:*
Before or after meals to warm the stomach and assist digestion.*
In a juice or shake or with any food and supplement to increase absorption.*
Before or after stressful times, for a quick pick me up!*

During minor digestive upset for less discomfort.*
With other tonics, adaptogens, and medicinal botanicals to boost their potency and efficacy.*
---
Turmeric Timing:*
With meals, for digestion of fats and proteins.*
In-between meals, to assist detoxification of the by-products of fatigue and reduce stress.*
After exercise or working or travelling, to assist recovery as part of a complete meal or a protein snack/shake.*
Before exercise, to boost circulation, promote cardiovascular function, and flexibility.*
With other medicinal herbs, like

chamomile

,

mint

, echinacea,

skullcap

,

goldenseal

, and more, that have antioxidant, antitoxin, liver health, and immune system properties, to respectively increase their efficacy for digestion, detoxification and/or immune health.*