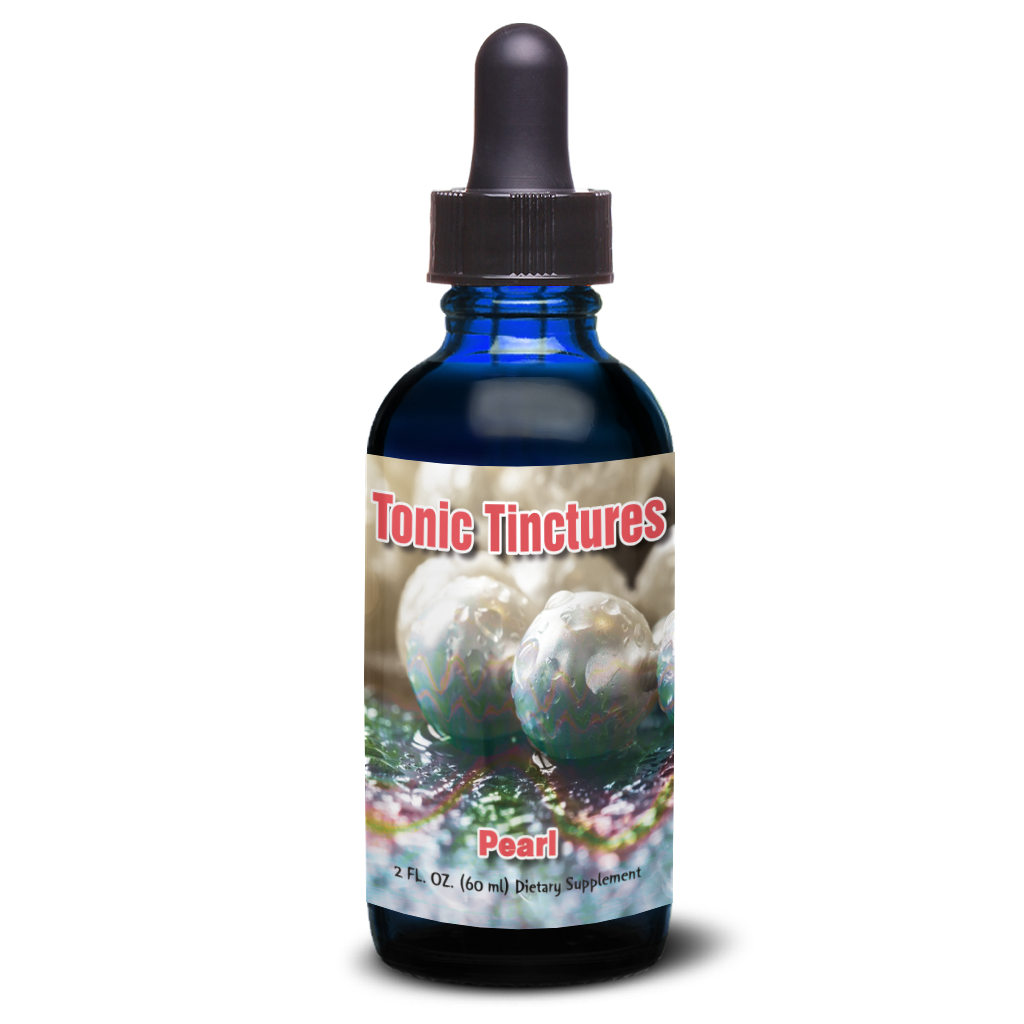 Pearl
Discounts Taken from Single Bottle Price

1 Pack + Free Shipping
2 Pack @ 10% Off + Free Shipping
3 Pack @ 15% Off + Free Shipping
6 Pack @ 20% Off + Free Shipping
12 Pack @ 25% Off + Free Shipping
&nbsp
---
Pearl Poster
†
---
Pearl Has These Key Benefits:
Promote joint strength and flexibility*
Relief from minor joint aches and joint discomfort*
Promote skin, hair, nail, teeth, and bone repair and regeneration*
Support physical recovery and injury repair*
Support daily stress resistance and recovery*
Boosts emotional well-being and promotes calmness*
Support clear eyes and vision*
Support healthy adrenal hormone function*
---
---
Benefits and Uses*
---
Lifestyles*
---
Description*
Pearl is a classic edible tonic commonly used by goddesses, queens, empresses, wise women and keen men throughout the world to boost beauty and handsomeness, to regenerate youthfulness and for the release of daily stress to support relaxation.*
---
Pearls are The Quintessence of Beauty and Serenity.*
They have long been taken internally for radiant health and applied externally for supple glowing skin.*
---
This Glycerite-Based Tincture is Easy to Take:*
By mouth - a dropper or two under the tongue a couple times a day as a tonic.*
On the skin - use 1-5 drops applied directly to the skin as desired or put the drops into each application of a lotion to boost the benefits!*
---
Pearl is a 'Shen' tonic herb.*
Taking pearl calms our mind and nourishes our spiritual heart; pearl is considered to be a 'shen' tonic in Chinese herbalism.* 'Shen', the spiritual heart, is experienced through deliberate feelings instead of the mind's thinking.* Pearl is thought to still the heart and allow life-affirming feelings that are compassionate to flow from within outward into daily life.* Pearl may be used to cultivate the heart as a conduit of universal understanding, love and affection.*
---
Pearl Supports Rest, Rejuvenation and Repair.*
During the night, the spirit seeks stillness for resting and prefers tranquility as it rejuvenates in peace.* Pearl's power resides in spirit's ability to instill patience and a non-judgmental detachment from our daily activities and relationships.* The particular mineral profile of pearls is what supports the relaxing and meditative qualities.*
---
Pearl Invokes Clarity of Spirit.*
Chinese herbalism says, when taken regularly by mouth, that pearl whitens the eyes.* Spirit's clarity is seen in the whites of our eyes and the glimmer of their inner-light.* Pearl nourishes our inner luminescence which may seen in the way the light is caught and reflected from the iris; reflecting one's inner-light.*
---
Pearls Contain Unique Nutrition Locked Within Their Crystalline Matrix.
Much of pearl's recuperative capacity comes from its outer shell of iridescent 'nacre' mother-of-pearl coating and from their inner organic nutrition:*
Collagen Peptides - supply raw materials for the regeneration of connective tissues, like skin and joints.*
Growth Factors - maintain normal and healthy growth of tissues by provoking cells to uptake and use nutrition.*
Phospholipids - maintain active cellular health and youthful cell membranes.*
Bio-available Minerals - calcium, magnesium, manganese regulate nerve impulses and muscular tension while benefiting joint and bone health.*
---
In particular, the combination of the constituents of pearl support fibroblasts responsible for tissue maintenance and regeneration, like smooth supple skin and flexible healthy joints.*
---
Moreover, pearls assist healthy bones from their rich source of bio-available minerals necessary for bone mineralization.* By supporting osteoblasts, pearl supports bones; osteoblasts are stem-cells that promote bone regeneration and formation.*
---
Batch Specs
Major and minor minerals, silky peptides, and specific lipids and phospholipids extract better in glycerin than in alcohol. These constituents are known to promote healthy growth and regeneration of tissues, joints, organs and glands through natural growth factors.*
Pearl is Tonic Tincture's Only Non-Alcohol Glycerite Based Tincture
†
Tonic Tincture's Pearl goes through a meticulous multi-step multi-step extraction:
Metabolized - Pearl has been pre-digested for maximum absorption, resulting in quicker effects; usually within 10-15 minutes.*
Filtered - any non-bioavailable material is removed, as these heavier un-absorbable elements will stress the digestion and dull the effects.
Suspended - all constituents are evenly dispersed throughout the fluid and protected from oxidation from air; thus preserving it during use.
---
Note about Pearl Powders: a drawback of pearl powder extracts is that their increased surface area has made extended contact with air and has begun rapid oxidation. In addition, consuming powdered pearl prevents absorption starting in the mouth and upper digestive track. Therefore, powdered pearl may have already passed through to the intestine before it is fully transformed for absorption, greatly diminishing assimilation of the constituents. In contrast, Tonic Tinctures' Pearl is absorbed immediately, beginning in the mouth, and as thoroughly as possible, without stressing and interfering with digestion.*
---
Ingredients
Cultured Freshwater Pearl (hyriopsis cumingii)
Structured Distilled Water
Organic Plant Based Glycerin (40% by volume)
---
Dosage*
Externally on Face - 2-4 drops Pearl per application for face up to 3 times a day. Do NOT place in eyes, use internally for eyes benefits.
Externally Applied with lotion - depending on amount of lotion, use 2-7 drops Pearl per application as a cosmetic booster when desired.
Internally by Mouth Recommended Dosage: 167 – 999 milligrams @ 1-3 times a day*
Pearl Dosage Equation - Internally:
The dosage of most tonics work by bodyweight and activity level and dietary factors. The amount of pearl taken is dependent on bodyweight and active stress levels.
BW + AL + DF
Bodyweight (BW) is the overall weight measured by a bathroom or locker room scale.
Activity level (AL) is a relative unit based on the amount of work accomplished, stress-levels and fitness-intensity.
Diet factors (DF) are based on how much calories and food is taken in, such as protein, fat and carbohydrates.
Estimated Daily Dosage:
BW = 1 dropper per ~60 pounds bodyweight

AL = + 0-2 droppers - 0 low, 1 medium, 2 high

DF = + 0-1 dropper per 2000 kcals reached
Example #1: 115lb person (BW = 1-2 droppers) who is working a moderate stress service job (AL = 1 dropper) and eats ~1750 kcals (DF = 0 droppers) would have a functional dosage of ~2-3 droppers daily divided into 1-3 doses across the day.
Example #1 is BW 1-2 + AL 1 + DF 0 = 2-3 droppers
To find a functional dose, start with a minimum dose of 15 drops to 1 dropper and work up to a functional dose.* Many benefits of tonics come from consistent and continued use over a period of time.*
Pearl dropper:
60 1ml droppers in a 2oz (60ml) bottle
1ml dropper = ~333 mgs cultured freshwater pearl extract
Pearl drops:
30 drops in a 1ml dropper
1 drop = ~11.1 mgs cultured freshwater pearl extract
Suggested Pearl Cycle:*
Initial Phase = 3-90 days
Long Term = ∞
Optional Cycle-off Period = 15-45 days
Continuous consumption of Pearl will yield increasing benefits over the time consumed; in other words, consistent daily consumption of Pearl at a functional dosage over the period of suggested time will increase health.*
After an initial cycle Pearl may be continued on-and-off as desired for the long-term cultivation of health or traded-out for another tonic adaptogen superfood.*
---
How to Take
Pearl is a versatile tonic that may be taken internally for its variety of benefits and applied externally onto any area of the body.*
Day - Consume on an empty stomach during the day to support relaxation and de-stress benefits.*
Night - Place a bottle on the nightstand and take directly before going to bed to support rest and sleep.*
Pearl is excellent for rest and recovery times.*
The more you take consistently the better it works, so please take advantage of our deeper discounts on bulk purchases from the drop-down menu.*
See our homepage for more about our methods.
Benefits with tonics take time; taking enough consistently rewards health
†
Take as desired: consume on a continuous basis to develop the natural tonic and adaptogenic benefits that build over time.* Some benefits are immediate and some results require consumption over several days and weeks to accomplish.* A good tonic cycle is 45-90 days of a tonic adaptogen which will generate lasting health changes.*
Shake gently: secure the lid and turn the bottle over back-and-forth 3-5 times to evenly distribute the tincture. Do not over-shake as the vigorous mixing of air with the extract will oxidize and damage many of the necessary constituents for required dosage and potency.
By mouth: hold the liquid under the tongue for 60-90 seconds and then swallow the rest of extract; doing so allows digestion to begin in the mouth and will take advantage of the activated multi-step extract so that many of the constituents will bypass digestion and enter the body through the mouth and throat.* Holding the extract also promotes better absorption and assimilation and elicits an immediate effect that is performance oriented*
Mix with water: squirt the drops or entire droppers into 2-4 oz. of water that is under 120*F. Water that is cool to lukewarm temperature is best to preserve the volatile and fragile constituents from being damaged and denatured which will reduce the potency of the extract.* Sip slowly to allow absorption in the mouth and throat.* This method makes it easier to become accustomed to the extract and to take larger doses of several different tinctures at once in a tonic program.*
Externally: apply pearl to any part of the body by placing drops into hand or adding it to a body lotion or mask. Take a few moments to rub the pearl extract or lotion combination on the skin in circular motions. Do NOT place in eyes; for eyes benefits follow dosage in sections by mouth or mix with water.
For maximum potency: regularly consume the tincture within a period of 45 days; after 45 days of continuous consumption the extract may begin to gradually lose potency requiring a larger dosage to achieve similar benefit.* A bottle will generally last 10-30 days depending on dosage and concurrent supplementation programming.*
Further dosage reference: How to Take a Tonic Tincture
---
Tincture Details
Tincture Type:
• Multi-step Glycerite
Serving Size:
• 1 dropper
Daily Usage:
• 1-3 droppers 1-3 times per day
Extraction Ratio:
• 3/4 pound : 1 quart - 20,000mgs to 2oz.(60ml)
Manufacture Date:
• April 11th 2023
Expiration:
• 2 Years from manufacture
Expiration & Storage Information
Made In Oregon USA
---
Label
Pearl Tincture is ~333mgs extract per 1ml dropper.
---
Questions and Answers
Common questions about Pearl supplementation.
Please submit any question via our contact form.
We currently do not have any questions, please ask one.
Q: How does Pearl help the skin?
A: Pearl speeds up skin regeneration since it adds astringent minerals to tighten the skin, collagens to promote skin repair, and growth factors for regenerating skin.