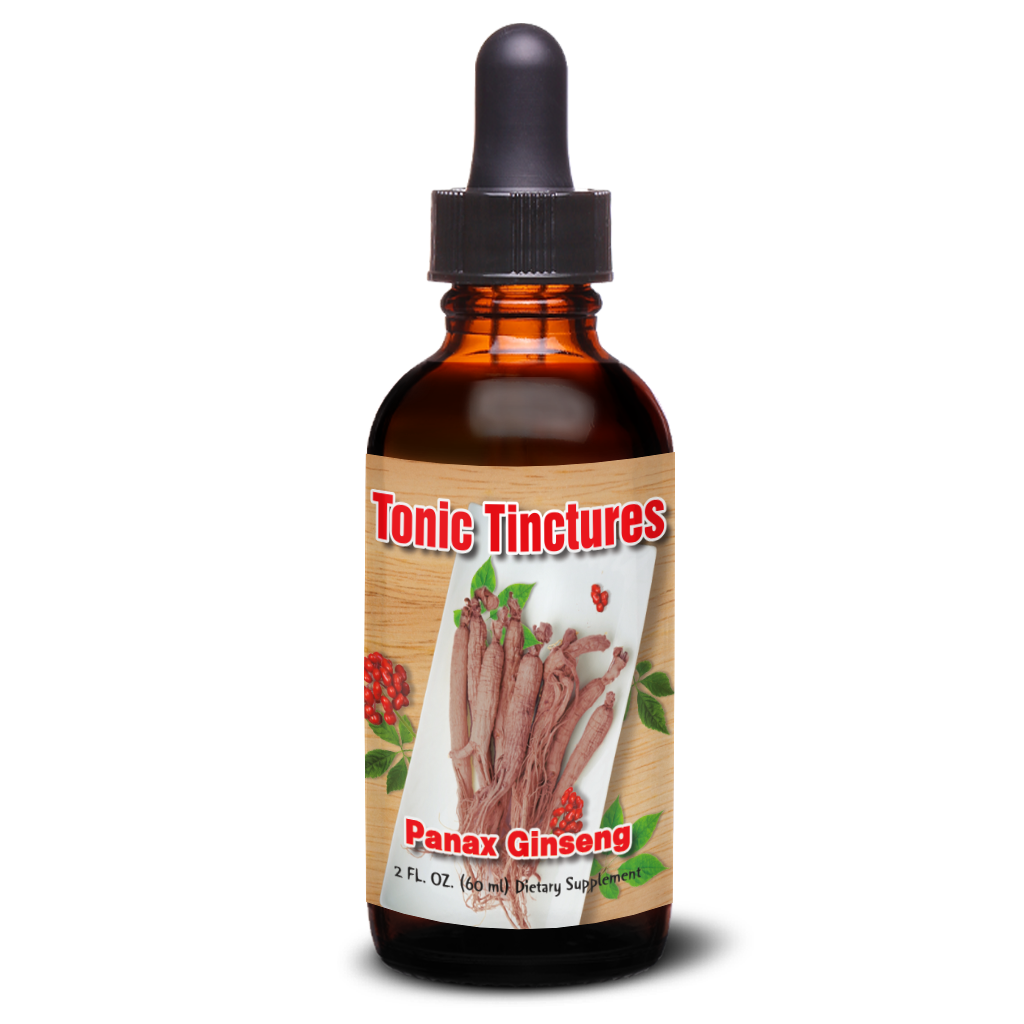 Panax Red Ginseng
Discounts Taken from Single Bottle Price

1 Pack + Free Shipping
2 Pack @ 10% Off + Free Shipping
3 Pack @ 15% Off + Free Shipping
6 Pack @ 20% Off + Free Shipping
12 Pack @ 25% Off + Free Shipping
&nbsp
---
Panax Red Ginseng Poster
†
---
---
---
Benefits and Uses*
---
Lifestyles*
---
---
---
---
---
---
---
---
---
---
---
---
---
---
Tincture Details
Tincture Type:
• Multi-step Hydroalcohol
Serving Size:
• 1 dropper
Daily Usage:
• 1-9 droppers per day
Extraction Ratio:
• 2 pounds : 1 quart - 60,000 mgs per 2oz. bottle
Manufacture Date:
• May 11th 2023
Expiration:
• 2 Years from manufacture
Expiration & Storage Information
Made In Oregon USA
---
Label
Panax Red Ginseng Tincture is ~1000mgs extract per 1ml dropper.
---
Questions and Answers
Common questions about Panax Ginseng supplementation.
Please submit any question via our contact form.
Q: Do you offer capsules of the tinctures? I'd love to try in a capsule form the red ginseng/energy?
A: Tinctures make you feel the energy more! We do better than capsules with our multi-step tinctures. This is because many of the constituents need to go through additional heated extraction steps for best absorption, especially when it comes to tonics like ginseng. You can easily add the tincture to a little water and sip on it, which will work way better than taking capsules. See the specs and how to take directions for more info.
Q: Do you use aged ginseng?
A: Many confuse the age of ginseng roots with the harvest period. Ginseng should be harvested during the 6th year of growth for higher ginsenoside concentrations. After the 6th year the size of the root is near maximum and the ginsenoside concentration only increases a little bit and does not necessitate additional time in the ground.
Q: What is the difference between red ginseng and panax ginseng and Korean ginseng?
A: Panax ginseng is the species name of a very common popular ginseng in Asia. Panax ginseng is generally steamed red to enhance it's potency and to activate the ginsenosides and polysaccharides. Any ginseng may be steamed red to make it more stimulating, but generally this is done with panax ginseng. Chinese panax ginseng is grown on small rural farms called 'gardens'. Korean panax ginseng is grown on farms in the mineral-rich soils of the mountains of South Korea
Q: Can I take ginseng with coffee or tea?
A: Yes, coffee and tea will enhance the nerve benefits. Coffee will increase the cardiovascular circulation benefits and promote physical performance. Tea will enhance the mood benefits. Green tea is very easy to take with ginseng and creates more thinking and cognitive performance, as well as better mood, due the amino acid L-theanine. Remember to stay hydrated and to eat complete meals full of protein and fats to get the best results.
Q: Why are some of your ginseng supplements made with jujube?
A: Jujube is a traditional tonic fruit that benefits nerve health and promotes sustaining energy. It has long been used to make ginseng work better. Jujube contains B vitamins that combine very well with the B vitamin content of ginseng roots. Additionally the plant pigments and flavonoids promote cardiovascular health and circulation.
Q: Does ginseng help mood?
A: Yes, the ginsenosides of ginseng are very good for supporting mood and cognitive function. The circulation benefits and trace mineral content also help to promote oxygenation which has the general effect of feeling-good.
Q: Can women take panax ginseng?
A: Yes, women can take panax ginseng, or any ginseng. Much depends on the benefits one is looking for. Panax red ginseng roots are more stimulating for physical work and exercise. American ginseng is more stimulating for thinking and calmer activities. All ginseng is versatile.
Q: Does panax ginseng boost testosterone?
A: Yes, in males, panax ginseng will support testosterone production in the testicles. Take ginseng as part of a complete diet that includes fats and proteins, especially eggs to get the best hormone benefits. To further increase testosterone production add Saw Palmetto.
Q: Why does panax ginseng cause headaches and tension in some people?
A: It is not the panax ginseng that is the cause of any issues that may occur with ginseng consumption, but a lacking diet, since panax ginseng does not make-up for a bad diet. Panax ginseng is a digestion and energy tonic, therefore you will achieve better results from consuming a complete diet and staying hydrated with electrolytes, such as those found in Goji Berry and Black Ant and high quality salts. Avoid skipping meals and eating only carbohydrates. Choose complete meals with eggs, meats, fats, like cheese and avocados. Fruit, especially oranges and tangerines, is a good quick snack between meals to complement ginseng. Feel free to take with a protein shake that uses milk for substantial nutrition.
Q: Can I take panax ginseng at night or before bed?
A: Panax ginseng is more performance oriented, due to a greater balance of ginsenosides that stimulate the metabolism for activity, so it may be best to avoid a few hours before bed. Choose American ginseng for more relaxing times or another tonic altogether that support rest, regeneration and sleep, such as Ashwagandha Cherry.
Q: Does panax ginseng have side-effects?
A: Panax ginseng is not a drug and does not have side-effects.
Q: I've noticed that some websites say to take only 200-400mgs of panax ginseng where your extract is 1,000mgs per dropper, why?
A: The 200-400mgs doses of panax ginseng are based from hokey medical drug science and these inferior extracts do not include many necessary constituents, like vitamins, minerals and polysaccharides, and production steps, like activating the ginsenosides, to make ginseng work better. Be sure to avoid these inferior products for full benefits.
Q: Which ginseng has the most ginsenosides?
A: 5-6 year American ginseng has the most ginsenosides according to extensive research and studies, but Heaven 10-20 size grade Korean ginseng is also another contender due to their very large grown roots. The 10-20 means how many roots fit into a traditional Chinese catty - a unit of food measure. A Heaven 10-20 root may be anywhere from 30-60 grams in weight and up to the size of a carrot in length.
Q: How much ginsenosides are in your Panax Ginseng?
A: We don't produce dilution standardized extracts for the amount of ginsenosides nor do we test each batch of 16 bottles for ginsenoside content. We produce multi-stepextract tinctures for all the constituents of panax ginseng. We use large grade 6-10 year grown garden grown ginseng roots for our Panax Ginseng tincture because they have a higher ginsenoside content and greater overall potency concerning all the benefits and uses of panax ginseng.
Q: For the red Panax ginseng, and the inclusion of the jujube dates, what is the sugar content?
A: The amount of jujube dates and ginseng we use during out multi-step extraction may add about around 10-15 grams of sugars per 2 oz. bottle. This is approximately 150 milligrams to 250 milligrams per dropper (1000 milligrams = 1 gram). Very close to zero. Jujube dates are an important energy tonic in herbalism that balances energy metabolism and strengthens the nerves and works well to balance out red ginseng for a better tonic. Always take ginseng with complete meals and especially a complete breakfast to have longer lasting energy throughout the day. See our Tips for Taking Tonics blog post....