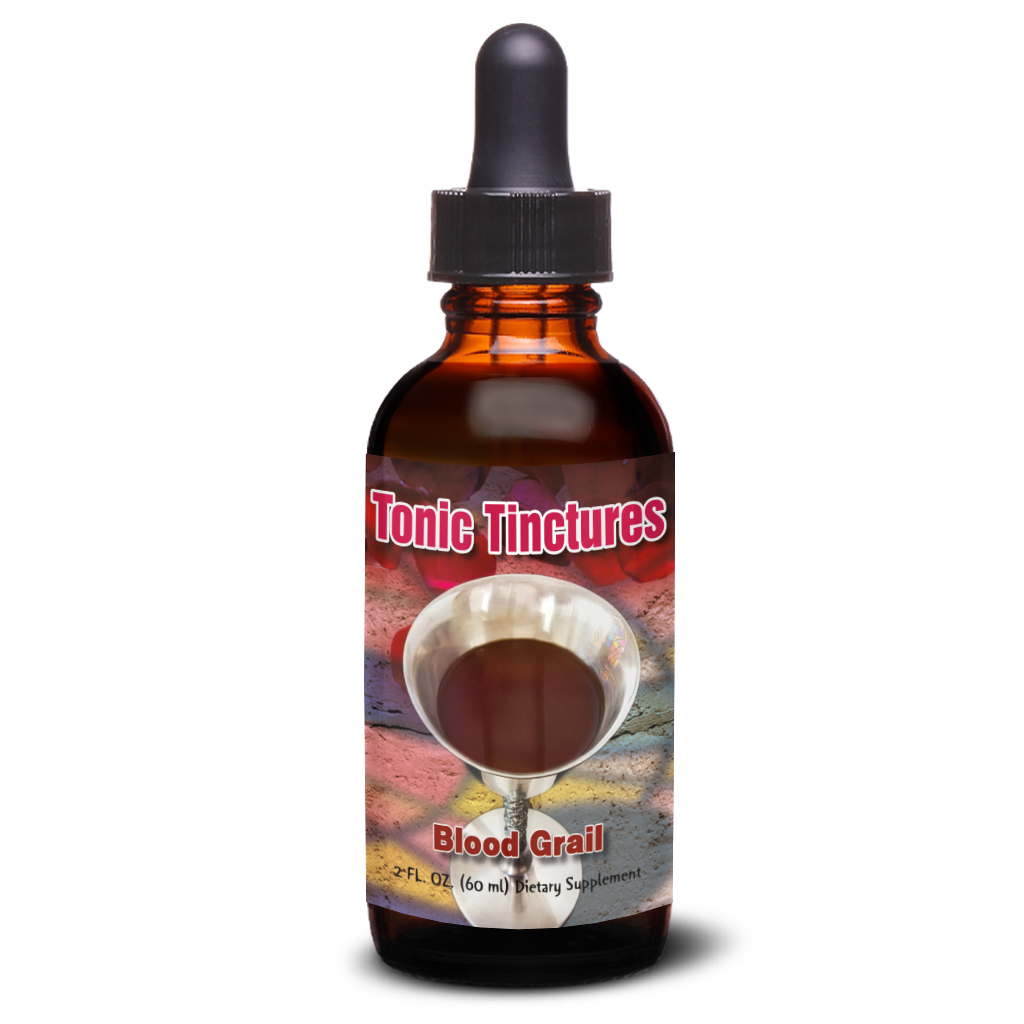 Blood Grail
Discounts Taken from Single Bottle Price

1 Pack + Free Shipping
2 Pack @ 10% Off + Free Shipping
3 Pack @ 15% Off + Free Shipping
6 Pack @ 20% Off + Free Shipping
12 Pack @ 25% Off + Free Shipping
&nbsp
---
Blood Grail Poster
†
---
Blood Grail Formula Has These Key Benefits:
Boosts mood and emotional centeredness*
Support detoxification of toxins and by-products of fatigue*
Promote healthy balanced hormones*
Maintain adrenal stress resistance*
Promote clear eyes and vision*
Support healthy skin, hair, and nails*
Promote heart circulation and blood-flow*
Promote fat digestion and protein assimilation*
---
| | |
| --- | --- |
| | |
---
Benefits and Uses*
---
Lifestyles*
---
Description
Blood Grail is a classical Chinese herbalism Rehmannia based formulation that includes many highly nourishing blood tonics, along with digestive liver tonics, to ensure healthy circulation of nutrition to all the tissues and organs of the body.
In the practice of herbalism 'blood' is the fluid that stabilizes hormone metabolism, promotes emotional centeredness, engenders devotional prayer, and elicits deeper feelings of peaceful spirit connection to the world around.*
---
Batch Specs
Organically grown and non-sulfated Rehmannia root, a premier blood and kidney tonic of the highest quality, has been artisanal blended into formula with many additional tonics for a classical Chinese blood tonic of the highest degree.
Nourishing Roots And Berries With A Floral Touch
†
Many steps are used to create a rich flavored sweet tasting liquid extraction that has the tang of citrus and the aroma of roses.
We formulate using a variety of extraction techniques for multi-step potency which include:
Artisan-formulated for Wholistic Effects and Benefits
Harvesting at Times of Full Botanical Potency
All Active Parts of the Specified Roots, Berries, Fruit Peels, Mushroom and Flowers Extracted and Preserved

Cold Processed Where Appropriate to Preserve Integrity of Fragile Constituents

Dual Solvent: Water and Alcohol for 99.9% constituent content

Semi-soluble Active Constituents Included in Suspension

Additionally Activated for Easy Digestion

Stabilized for Natural Preservation - No Preservatives
This formulation uses low alcohol, 30% by volume, so that it may be taken every day. Rehmannia does not extract well into alcohol alone, so a special water extraction step is applied and requires low alcohol for maximum efficacy of the main tonic herb in the formula.
See our homepage for more about our methods.
---
Ingredients
All Tonic Herbs Are Organic Sourced and of the Highest Quality
75% Main Herbs

Cooked Rehmannia Root - Leader Tonic
Dang Gui Root
Huckleberries
Black Mulberries
White Peony Root
Poria mushroom
White Atractylodes
Jujube Date

10% Supporting Tonics

Rose Petals
Orange Peel
Amla Berry

10% Conductive Tonics

Lovage Root
Black Cohosh Root
Blue Cohosh Root
Yellowdock Root

5% Directing Tonics

Ginger Root
Licorice Root

Structured Distilled Water
Triple Filtered USP Grade Organic Alcohol (30% by volume)
---
Dosage*
Recommended Dosage: 170 – 1,500 milligrams @ 1-3 times a day*
Blood Grail Dosage Equation:
The dosage of most tonics work by bodyweight and activity level and dietary factors. The amount of Blood Grail taken is dependent on bodyweight and diet factors.
BW + AL + DF
Bodyweight (BW) is the overall weight measured by a bathroom or locker room scale.
Activity level (AL) is a relative unit based on the amount of work accomplished, stress-levels and fitness-intensity.
Diet factors (DF) are based on how much calories and food is taken in, such as protein, fat and carbohydrates.
Estimated Daily Dosage:
BW = 1 dropper per ~75 pounds bodyweight

AL = + 0-1 droppers - 0 low/medium, 1 high

DF = + 1 dropper for every ~30-45 grams of protein or ~1000 kcal reached
Example: 150lb person (BW = 2 droppers) who is going to work for the day (AL = 0 dropper) and eats ~75 grams of protein and ~2500 kcals (DF = 1-2 droppers) would have a functional dosage of ~4-5 droppers daily divided into 1-3 doses across the day.
Example is BW 2 + AL 0 + DF 1-2 = 3-4 droppers
To find a functional dose, start with a minimum dose of 10 drops to 1 dropper and work up to a functional dose.* Many benefits of tonics come from consistent and continued use over a period of time.*
Blood Grail dropper:
60 1ml droppers in a 2oz (60ml) bottle
1ml dropper = ~500 mgs Blood Grail formula
Blood Grail drops:
30 drops in a 1ml dropper
1 drop = ~17 mgs Blood Grail formula
Initial Phase = 3-30 days
Health Cultivation = ∞
Optional Cycle-off Period = 3-30 days
Continuous consumption of Blood Grail will yield increasing benefits and results over the time consumed; in other words, consistent daily consumption of Blood Grail at a functional dosage over the period of suggested time will increase health and wellness benefits.*
After an initial cycle Blood Grail may be continued on-and-off for the cultivation of health or traded for another tonic adaptogen superfood.*
Suggested Timing:
---
How to Take
Blood Grail is a daily support tonic that has supports balanced detoxification with mildly invigorating qualities that maintain stress-resistance.*
The combination of tonics within this formulation will mobilize fat metabolism from tissue stores so it may be taken on an empty stomach.*
Detox - consume on an empty stomach to promote digestive organ, liver, and tissue detox.* Additionally, when consuming on an empty stomach the adrenal and nerves will be protected from the blood-building and blood-maintaining herbal nutrition from the blue and purple berries, Rehmannia root.*
To increase the recuperative, endocrine and adrenal benefits, be sure to include healthy fats and proteins in-and-around timing of dosage.*
Meals - take with complete meals to boost nutrient density and the absorption and assimilation of food and supplements.* Additionally meal-time consumption with rest will promote adrenal recovery.*
Benefits with tonics take time; taking enough consistently rewards health
†
Take as desired: consume on a continuous basis to develop the natural tonic and adaptogenic benefits that build over time.* Some benefits are immediate and some results require consumption over several days and weeks to accomplish.* A good tonic cycle is 45-90 days of a tonic adaptogen which will generate lasting health changes.*
Shake gently: secure the lid and turn the bottle over back-and-forth 3-5 times to evenly distribute the tincture. Do not over-shake as the vigorous mixing of air with the extract will oxidize and damage many of the necessary constituents for required dosage and potency.
By mouth: hold the liquid under the tongue for 60-90 seconds and then swallow the rest of extract; doing so allows digestion to begin in the mouth and will take advantage of the activated multi-step extract so that many of the constituents will bypass digestion and enter the body through the mouth and throat.* Holding the extract also promotes better absorption and assimilation and elicits an immediate effect that is performance oriented*
Mix with water: squirt the drops or entire droppers into 2-4 oz. of water that is under 120*F. Water that is cool to lukewarm temperature is best to preserve the volatile and fragile constituents from being damaged and denatured which will reduce the potency of the extract.* Sip slowly to allow absorption in the mouth and throat.* This method makes it easier to become accustomed to the extract and to take larger doses of several different tinctures at once in a tonic program.*
For maximum potency: regularly consume the tincture within a period of 45 days; after 45 days of continuous consumption the extract may begin to gradually lose potency requiring a larger dosage to achieve similar benefit.* A bottle will generally last 10-30 days depending on dosage and concurrent supplementation programming.*
Further dosage reference: How to Take a Tonic Tincture
---
Tincture Details
Tincture Type:
• Multi-step Hydroalcohol
Serving Size:
• 1 dropper
Daily Usage:
• 1-3 droppers 1-3 times per day
Extraction Ratio:
• 1 pound:1 quart - 28,500mgs to 2oz.(60ml)
Manufacture Date:
• February 5th 2023
Expiration:
• 2 Years from manufacture
Expiration & Storage Information
Made In Oregon USA
---
Label
Blood Grail Tincture is ~500mgs extract per 1ml dropper.
---
Questions and Answers
Common questions about Blood Grail supplementation.
Please submit any question via our contact form.
We currently do not have any questions, please ask one.
Q:
A: