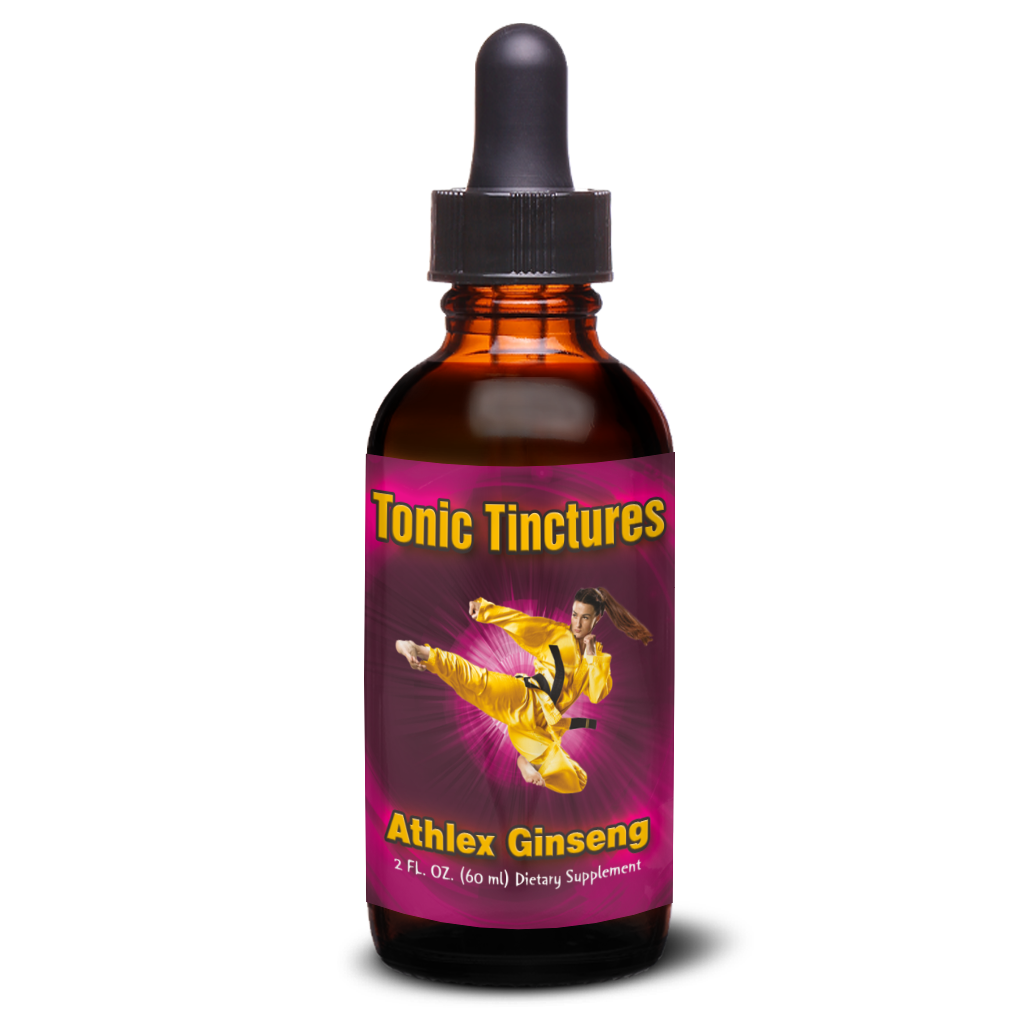 Athlex Ginseng for Women
Discounts Taken from Single Bottle Price

1 Pack + Free Shipping
2 Pack @ 10% Off + Free Shipping
3 Pack @ 15% Off + Free Shipping
6 Pack @ 20% Off + Free Shipping
12 Pack @ 25% Off + Free Shipping
&nbsp
---
Athlex Ginseng for Women Poster
†
---
Athlex Ginseng For Women Formula Has These Key Benefits:
Enhance energy for daily performance activities*
Boosts mood and well-being*
Promote nerve strength*
Promote cognition, mental clarity and focus*
Promote cardiovascular performance*
Support joint flexibility*
Support endocrine function and healthy hormones*
Supports healthy weight loss*
---
---
Benefits and Uses*
---
Lifestyles*
---
Description
Athlex Ginseng is an athletic formula that promotes relaxed performance and the ability to stay-calm under tense situations; the combination of tonic herbs invigorate the circulation and muscles while regulating nerve power and endocrine function so that we may get-into-the flow and confidently leap into action.*
---
The Athlex series comes in a male or female formula.
The Athlex series has with only minor differences in each since herbal tonics have broad-spectrum effects for performance benefits and hormonal health.* The female formula is adjusted for supplying tonic raw material for hormones and assisting liver hormone metabolism for healthier hormonal health.* It may also be used for demanding working and thinking, especially active computer tasks and mathematical oriented labor.*
---
Many adventurous people seek out the performance benefit of the ginsenoside spectrum that is contained within panax ginseng.*
These specific constituents are known to have hormonal, glandular and metabolic activity.*
The Korean variety of panax ginseng is known to support endocrine function more-so than the Chinese variety which supplies more 'qi' energy comparatively.*
Notoginseng roots, also called 'tianqi', translated. 'Earth energy', have ginsenosides that support blood-flow, circulation and oxygenation.* Notoginseng is a popular martial arts tonic that benefits performance and recovery form its own particular ginsenoside spectrum that differs than the panax species.*
Another highly studied 'qi' energy adaptogen is Eleuthero which contains metabolic constituents that support stamina and stress-tolerance.*
---
Additional tonics within this formula are added which will enhance the flow of energy throughout various organs and tissues in the body:*
Eucommia: a tree bark that regulates muscle tension and supports flexibility of joints by allowing the release of tension that may interfere with performance.*
Dang Gui: generally a female-oriented tonic that supports blood circulation and liver performance with liver hormone metabolism.*
Saw Palmetto: a traditional endocrine tonic that supplies raw materials, known as phytosterols, for support in hormone production.*
Sufficient nerve strengthening tonics are added to support panax ginseng's get-up-and-go herbal action.* These tonics are unique tree barks:
Catuaba and Muria Puama: enhance and promote nerve function and mental thinking.*
To exemplify the expertise of this formula and ensure the the ability to tense-and-relax, cinnamon branch is added which contains volatile oils that assist muscular release for greater on-the-spot action capacity.*
---
Batch Specs
A Chinese Ginseng Formulation Of Performance Tonics
†
We formulate using a variety of extraction steps and techniques for multi-step potency which include:
Artisan-formulated for Wholistic Effects and Benefits
All Active Parts of the Tonic Herbs Extracted and Preserved

Cold Processed Where Appropriate to Preserve Integrity of Fragile Constituents
Steam Processed Panax Ginseng, Korean Ginseng, and Notoginseng for Ginsenoside and Polysaccharide Activation and Easy Absorption

Specific Multi-step Extractions of Various Supporting and Conducting Tonics.
Dual Solvent: Water and Alcohol for 99.9% constituent content

Semi-soluble Activated Polysaccharides Included in Suspension

Stabilized for Natural Preservation - No Preservatives
This formulation uses low alcohol, 25% by volume, for maximum content of the water extractable constituents from the main tonics in the formula. This volume of alcohol will balance the alkaloids and volatile constituents of the supporting, conducting and amplifying tonics so that the formula may be taken over an extended period of time to cultivate health and fitness.*
See our homepage for more about our methods.
---
Ingredients
Each variety of ginseng in the Athlex series is done with nuances in mind for a potent and effective formula.
The Korean ginseng and Chinese sourced panax ginseng complement each other; they are steamed red and extracted in various steps while having their ginsenoside content activated.
Korean ginseng is high-grade large root heaven quality for their concentrated ginsenoside content.
Panax ginseng is selected from gardens where it has been cultivated a minimum of six years.
The steamed notoginseng roots are large sized and have been extracted with a prolonged heat activation step to ensure maximum ginsenoside content and activation.
Eleuthero goes through a concentration step mainly for the active constituents known as eleutherosides.
The supporting tonic, saw palmetto, and conducting amplification tonics have an extended no-heat and/or low heat applied to ensure activity of the constituents for their benefits that enhance the main tonics.
60% Main Herbs

Korean Red Ginseng (Heaven 15-25 Grade)
Panax Red Ginseng (6 Year+ Garden Ginseng)
Eleuthero (Eleutherosides Only Extract)
Tienqi Notoginseng
Eucommia

25% Supporting Herbs
12% Conducting Tonics
3% Amplification Tonic
Structured Distilled Water
Triple Filtered USP Grade Organic Alcohol (25% by volume)
---
Dosage*
Recommended Dosage: 333 – 3,000 milligrams @ 1-2 times a day*
As the predominant tonic in Athlex Ginseng is the Asian species of panax ginseng, reference panax ginseng dosage for more information and insight.*
Athlex Ginseng Dosage Equation:
The dosage of most tonics work by bodyweight and activity level and dietary factors. The amount of Athlex Ginseng taken is highly dependent on activity level.
BW + AL + DF
Bodyweight (BW) is the overall weight measured by a bathroom or locker room scale.
Activity level (AL) is a relative unit based on the amount of work accomplished, stress-levels and fitness-intensity.
Diet factors (DF) are based on how much calories and food is taken in, such as protein, fat and carbohydrates.
Estimated Daily Dosage:
BW = 1 dropper per ~200 pounds bodyweight

AL = + 1-3+ droppers - 1 low, 2 medium, 3+ high

DF = + 1 dropper for every ~1500 kcal reached
Example #1: 125lb person (BW = 0 dropper) who is doing marital arts for a couple hours (AL = 3+ droppers) and eats ~1750 kcals (DF = 1 dropper) would have a functional dosage of ~4+ droppers daily divided into 1-2 doses across the day.
Example #1 is BW 0 + AL 3+ + DF 1 = ~4+ droppers
Example #2: 165lb person (BW = 0 dropper) who is participating in physical exercise (AL = 2 dropper) and eats ~2150kcals (DF = 1 dropper) would have a functional dosage of ~3 droppers daily divided into 1-2 doses across the day.
Example #2 is BW 0 + AL 2 + DF 1 = ~3 droppers
To find a functional dose, start with a minimum dose of 10 drops to 1 dropper and work up to a functional dose.* Many benefits of tonics come from consistent and continued use over a period of time.*
Athlex Ginseng dropper:
60 1ml droppers in a 2oz (60ml) bottle
1ml dropper = ~1000 mgs Athlex Ginseng formula extract
Athlex Ginseng drops:
30 drops in a 1ml dropper
1 drop = ~33 mgs Athlex Ginseng formula extract
Suggested Athlex Ginseng Cycle:*
Initial Phase = 1-14 days
Health Cultivation = 14-90 days
Optional Cycle-off Period = 1-30 days
Continuous performance consumption of Athlex Ginseng will yield increasing benefits and results over the time consumed; in other words, consistent performance consumption of Athlex Ginseng at a functional dosage over the period of suggested time will increase performance effects and benefits.*
Athlex Ginseng will cultivate health after 1-3 months of use, after this cycle it may be traded-out for another tonic adaptogen superfood.*
Suggested Timing:
---
How to Take
Athlex Ginseng is primarily a performance tonic that is suggested to be taken towards the beginning of the day and/or before a main performance activity.*
Performance - 15-30 minutes before physical activity or mental tasks.
The addition of probiotics in the daily diet will further activate the constituents in the extraction for easy assimilation.*
Benefits with tonics take time; taking enough consistently rewards health
†
Take as desired: consume on a continuous basis to develop the natural tonic and adaptogenic benefits that build over time.* Some benefits are immediate and some results require consumption over several days and weeks to accomplish.* A good tonic cycle is 45-90 days of a tonic adaptogen which will generate lasting health changes.*
Shake gently: secure the lid and turn the bottle over back-and-forth 3-5 times to evenly distribute the tincture. Do not over-shake as the vigorous mixing of air with the extract will oxidize and damage many of the necessary constituents for required dosage and potency.
By mouth: hold the liquid under the tongue for 60-90 seconds and then swallow the rest of extract; doing so allows digestion to begin in the mouth and will take advantage of the activated multi-step extract so that many of the constituents will bypass digestion and enter the body through the mouth and throat.* Holding the extract also promotes better absorption and assimilation and elicits an immediate effect that is performance oriented*
Mix with water: squirt the drops or entire droppers into 2-4 oz. of water that is under 120*F. Water that is cool to lukewarm temperature is best to preserve the volatile and fragile constituents from being damaged and denatured which will reduce the potency of the extract.* Sip slowly to allow absorption in the mouth and throat.* This method makes it easier to become accustomed to the extract and to take larger doses of several different tinctures at once in a tonic program.*
To find a functional dose, start with a minimum dose of one dropper (or less) and work up to a functional dose.* Many benefits of tonics come from consistent and continued use over a period of time.*
For maximum potency: regularly consume the tincture within a period of 45 days; after 45 days of continuous consumption the extract may begin to gradually lose potency requiring a larger dosage to achieve similar benefit.* A bottle will generally last 10-30 days depending on dosage and concurrent supplementation programming.*
Further dosage reference: How to Take a Tonic Tincture
---
Tincture Details
Tincture Type:
• Multi-step Hydroalcohol
Serving Size:
• 1 dropper
Daily Usage:
• 1-3 droppers 1-3 times per day
Extraction Ratio:
• 1 pound:1 pint - 57,000mgs to 2oz.(60ml)
Manufacture Date:
• February 15th 2023
Expiration:
• 2 Years from manufacture
Expiration & Storage Information
Made In Oregon USA
---
Label
Athlex Ginseng for Women Tincture is ~1000mgs extract per 1ml dropper.
---
Questions and Answers
Common questions about Athlex Ginseng for Women supplementation.
Please submit any question via our contact form.
Please review Panax Ginseng for more common questions about ginseng.
Q: How do I make Athlex work better?
A: Ginseng and circulation work best when a complete meal with quality protein is eaten with the dosages. It would not be recommended to take Athlex on an empty stomach or a restricted diet without enough protein and other foods due to the performance enhancement benefits. See Tips for Taking Tonics...